Archos 5 Snap On TV DVB-T tuner reviewed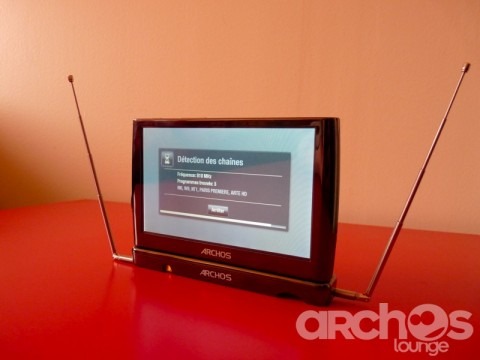 They may look like old analog rabbit-ears antennas, but these are actually the digital-TV grasping tendrils of Archos' Snap On TV accessory for the Archos 5 PMP.  A narrow slice docking across the bottom of the touchscreen mediaplayer, the Snap On TV adds DVB-T reception to the PMP's DVR functionality; Archos Lounge have been testing one out.
The results are mixed, to say the least.  First impressions are good, in that the design is sleek and relatively compact, but the Archos logo managed to smudge off in short order.  Then the connection between the Snap On TV and the PMP was loose.  Archos pack it with dual tuners, but they're intended to boost reception quality rather than view and record simultaneously; unfortunately it's still very susceptible to the whims of DVB-T coverage.
When they could get a signal – and be warned, the coverage maps might be accurate with a roof-top antenna, but they're not if you're using two tiny portable antenna – the experience was good.  Picture quality is decent, and while pay-per-view channels can't be decoded the usual roster is there for the taking.  Just don't move too much; more than a few dozen meters and you'll need to rescan.
It's a great idea in practice, but we're not sure how many people will put up with the hassles.  Still, at under €60 ($76) it's a cheapish way to get mobile TV and DVR functionality.