Archos 5 Android Tablet Firmware Reportedly Stable; Android 1.6 Donut By End Of 2009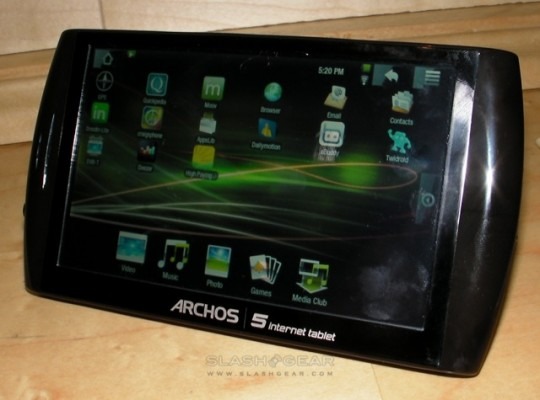 We may receive a commission on purchases made from links.
The Archos 5 Android Internet Tablet saga continues, with sales of the 5-inch PMP still partly frozen on Amazon while the company has also pushed out a new firmware update.  Amazon put the Archos 5 160GB on hold earlier this week after unspecified complaints from buyers; now the 500GB model has come into stock with the retailer, but shows no such sales-freeze.  According to ArchosFans, meanwhile, there's a new, stable firmware – version 1.1.01 – that addresses many early complaints from owners.
Among the changes are more stable WiFi and Bluetooth connectivity, improved H.264 and MKV playback, and links to the download pages for the missing apps some users have reported.  As for tethering, Archos are claiming that the inability of the Archos 5 to work with the iPhone, BlackBerry, Windows Mobile and Android handsets (oh, the irony) is a limitation of the respective smartphone manufacturers, and thus not something they can change.
Archos have also promised that Android 1.6 Donut should be pushed out to the device by the end of 2009, though they've given no more specific timescale than that.  The 32GB SSD-based Arcos 5 Android Tablet remains on sale through Amazon, unaffected by the 160GB model's issues.