Archos 5 Android Internet Tablet up for Amazon preorder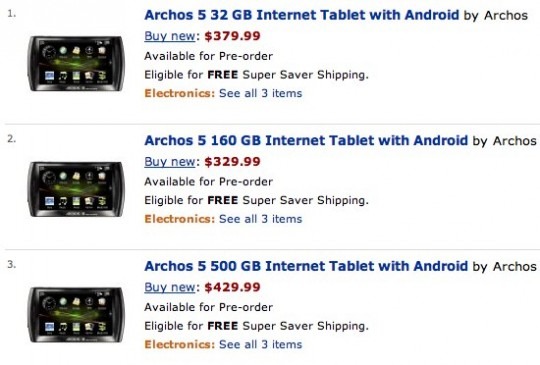 We may receive a commission on purchases made from links.
Archos' Android Internet Tablet, the Archos 5, has shown up for preorder on Amazon in at least three of its forms.  The 32GB flash model, together with the 160GB and 500GB hard-drive versions, are all listed, with prices at $379.99, $329.99 and $429.99 respectively.
Specifications for the three units are just as we've heard previously, which means you get WiFi b/g/n, Bluetooth for tethering a cellphone or hooking up a wireless keyboard/mouse, and of course a 480 x 800 4.8-inch resistive touchscreen.  As well as local and network-streaming media playback, the Archos 5 has the usual Android web-browser for internet access, together with supporting Flash video playback.
No sign of a shipping date on Amazon, but we're expecting the tablets to drop on or around September 16th.  For more on the Archos 5, check out our hands-on post from the launch event earlier this week.
[vms be180185cac7d243c5eb]
[via Tabletage]