Archos 5 & 7 PMPs: Fingerprint Magnets But Promising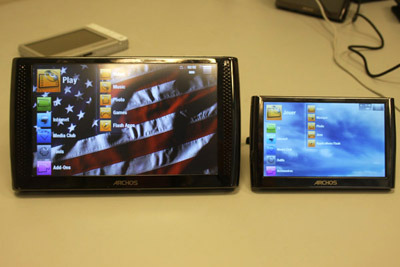 Archos' new PMP range has been long anticipated, and the first hands-on reports are already coming in.  GenerationMP3 spent some time with both the 4.8-inch Archos 5 and the 7-inch Archos 7, and despite the casings being real fingerprint magnets they've come away impressed.  Archos have apparently switched the audio processing chip and are claiming far better sound quality; they've also included both the Flash-compatible Opera browser and the WebTV & Radio plugin, which on previous models were paid options.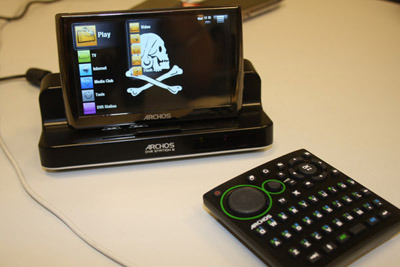 The touchscreen on the Archos 5 is in their opinion harder than in the Archos 605, while that of the Achos 7 hasn't changed.  Compatibility is the same long list of formats, including DVD resolution MPEG-4 and WMV files, and the new addition of 720p high-definition playback.  Obvious downsides include the use of a resistive touchscreen instead of capacitive, and the subsequent lack of multitouch. 
While the translation isn't great, and my skills at French even worse, there seems to be some suggestion that HSDPA can be added to the standard Archos 5 and Archos 7 using some sort of USB modem.  Take that idea with a pinch of salt until we can get it officially confirmed, but that would be the real icing on the Archos cake.