AR.Drone 2.0 "Power Edition" brings on colorful customization

While it might seem a little absurd to fly the mobile device-friendly AR.Drone 2.0 with more propellers then it already has – have no fear – the "Power Edition" of the device delivers said extras as replacements for customization only. This reboot of the rather popular AR.Drone 2.0 works with the same base device as the original, delivering with it a "Piano Black" indoor hull and outdoor hull. The propeller additions come in three sets: blazing red, fiery orange, and cool blue.
Since the launch of the original AR.Drone 2.0, the creation teams behind this remote control beast have created high-density batteries for far longer flights than what's delivered in the base unit. With the "Power Edition" release of the AR.Drone 2.0, the box includes two of these high-density lithium-polymer batteries. Each of these batteries extends the flight time – over the original – by 50 percent.
Fly with one unit while you power the other up, or head out to the country where you'll be doing wild tricks in the heaving winds over your lunch break.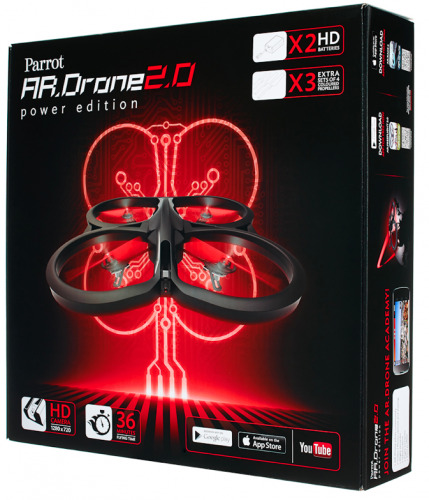 This Power Edition of the AR.Drone 2.0 works with all of the same apps that the basic model rolls with, and allows you to connect to the AR.Drone Academy like you're one of them. Have a peek at this demo of the Academy app to see what you'll be all about – including exploring the world through AR.Drone cameras around the world.
The Parrot.AR Drone 2.0 Power Edition will be coming from Brookstone exclusively for $369.99 USD, so says the team at Parrot. For another wild demonstration of the abilities of the AR.Drone 2.0, have a peek at our demonstration with NVIDIA SHIELD in tow. As SHIELD is an Android device, you'll be able to use it, its physical controls, and its display to fly the AR.Drone 2.0 in a way not quite possible with any other device.
The Parrot AR.Drone 2.0 also works with iOS devices, including the iPhone, iPod touch, iPad, and iPad mini – just so long as they've got the ability to connect to a Wi-fi signal.