Apricorn DVR Expander gets welcome makeover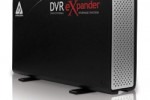 When it launched back in January, you couldn't really fault Apricorn's DVR Expander for its specifications: 1.5TB of storage for plug'n'play expansion of your DVR, with a range of connectivity to suit various different TiVo, Cable and DirectTV receivers, among others.  What was less impressive was the casing; it looked cheap and, certainly in the case of the pink unit Apricorn bizarrely chose for their press shots, not something you'd want sat next to your TV.  Now the DVR Expander has had a makeover: the same impressive capabilities, but with a far slicker case.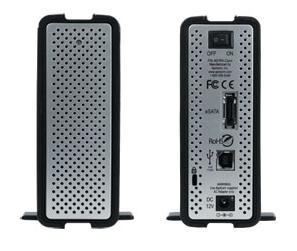 Out goes the bargain-basement chassis and in comes a new, black and silver aluminum frame with a new super-quiet fan.  The front panel gets an Apple-styled perforated mesh finish, and there are even little swivel feet that can keep the DVR Expander standing upright. 
Capacities remain 500GB, 1TB and 1.5TB, and there are both USB 2.0 and eSATA connections.  The drive supports dual tuner record with simultaneous playback of a third file.  Prices start at $119 for the 500GB model, rising to $169 and $219 for the 1TB and 1.5TB models respectively; a mail-in rebate promotion brings the 1.5TB drive down to $179.
Press Release:
APRICORN UNVEILS NEW LOOK FOR THE DVR EXPANDER

The largest capacity DVR external hard drive on the market now has a sleek new design

Poway, Calif. April 8, 2009 – Apricorn, (www.apricorn.com) the leader in personal storage, today unveiled the revamped design of the Apricorn DVR Expander. Sporting a sleek black and silver aluminum frame, allowing for greater heat dissipation and whisper quiet ultra-cool fan to keep the drive at optimal temperatures – even in cramped TV cabinets, the DVR Expander's fresh design is the perfect blend of form and function.

The DVR Expander's stackable design and convenient hideaway stand that can swivel away when not in use, enables the DVR Expander to be used in either horizontal or vertical configurations, allowing it to fit in virtually any entertainment center.

Available in 500GB, 1TB, and 1.5TB capacities, the DVR Expander's dual USB 2.0 / eSATA interface is compatible with a variety of DVRs utilizing an active eSATA or USB 2.0 connection. This includes Scientific Atlanta® 8300 series DVR (eSATA), DIRECTV® DVRs (eSATA) and Dish Network® ViP HD DVR (USB 2.0). The DVR Expander also supports all the functions of your dual tuner DVR, including simultaneously recording two high definition channels while playing one back.

The set up of the DVR Expander, which can add up to 843 hours of standard programming or 187.5 hours of high definition programming to your DVR, takes minutes. Just connect the DVR Expander to the active eSATA or USB 2.0 port on the back of the DVR (depending on your system), format the drive using the DVR prompts and your DVR capacity is instantly increased.

"Running out of recording space on a DVR is the biggest complaint we hear about DVRs" said Mike McCandless, Apricorn's VP of Sales and Marketing. "With our high capacity DVR Expander I can record 4 days of the Masters in High-Definition without deleting my wife's Oprah recordings. It's a marriage saver".

System Requirements

oYour DVR eSATA or USB port must be active to use the DVR Expander. If you are unsure if your DVR eSATA or USB port is active or the DVR Expander is compatible with your system, please refer to the Apricorn website or your cable provider

1 terabyte (TB) = 1 trillion bytes = 1000 gigabytes

*Accessible capacity will be less and actual capacity depends on the operating environment and formatting.

Availability

Apricorn's DVR Expander is available from online retailers and Apricorn's website www.apricorn.com.

Pricing

o500GB: $119.00

o1TB: $169.00

o1.5TB: $219.00

Warranty

One year limited