Apricorn DVR Xpander packs 1.5TB, adds 187 hours of HD recordings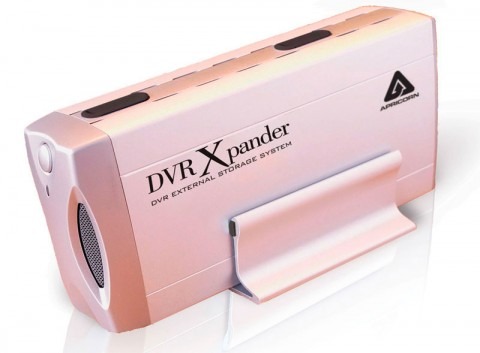 While competitors are still promoting their half Terabyte DVR add-on external storage, Apricorn is one Terabyte ahead; packing their DVR Xpander series external drive with a 1.5TB single disk storage device, adds an instant recording capacities for up to 843 hours of Standard format TV, or 187.5 hours of HD programs, to your favorite DVR set-tops.
Leased DVR boxes from your cable carriers like the Scientific Atlanta 8300 series or any DVR equipped with an active eSATA port like the Tivo S3 (after v9.3) should work right out the box with any eSATA equipped external storage. What differs a dedicate DVR storage like the Apricorn's add-on from any external drive is product reliability, temperature and noise controls. Trust me, you don't want a Terabytes of HD programs gone missing.
The Apricorn DVR Xpander comes in a sleek aluminum enclosure with an internal fan for cooling. Equipped SATA drive is operated in a whisper quiet mode, and is designed to provide product longevity in a high duty cycle environments. Connectivity includes an eSATA port and a USB 2.0 port. It's available now in 500GB ($119), 750GB ($149), 1TB ($179) or 1.5TB ($239 configuration.
[via Apricorn]