Iomega 500Gb DVR Expander Review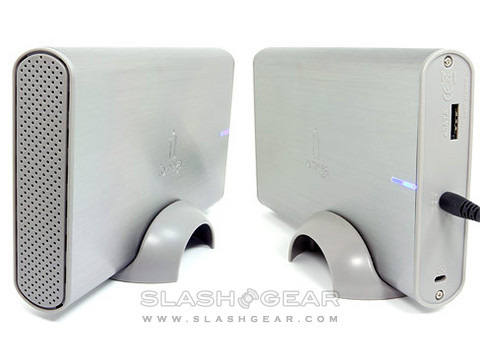 Anyone with a Digital Video Recorder is probably not a stranger to running out of storage space and being forced to delete old programs. What you may not be aware of is that there are a few products out there claiming to make expanding that storage straightforward: essentially a plug-n-play external hard drive to add capacity to your DVR. The Apricorn DVR Xpander and Western Digital My DVR Expander are two such examples, and here we have a new kid in town, the Iomega DVR Expander.
First announced back in June, Iomega's version comes with 500GB of storage space, offering up to 300 hours of standard definition TV or 60 hours of High Definition TV on top of what your DVR can store. The sleek looking aluminum case and the front air vent deliver good heat dissipation to cool down the internal hard drive. If you are wondering, the expander uses what's arguably the industry's best DVR hard drive, Seagate's DB35 Series ST3500830SCE. It offers better durability for 24/7 multi-streaming with reduced physical acoustic noise.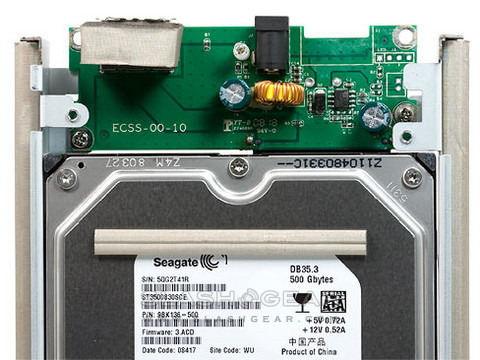 The Expander, likes its competitors, is targeting consumers with eSATA-enabled Scientific Atlanta's DVR. The manufacturer claimed compatibility with the SA-8300 as well as the SA-8300HD DVRs, unfortunately I have neither of those on hand for testing. However I do have an alternate candidate for the task.
Like Scientific Atlanta, TivoHD and Tivo S3 support plug-n-play add-on storage via eSATA. Many Tivo fans have been successful getting add-on storage to work on both HD and S3 models with verified or non-verified eSATA drives. The non-modified S3 allows practically any eSATA drive to work (with a few exceptions) while TivoHD requires a minor hack. If you have an S3, just plug in the Iomega expander, enable the extra storage at External Storage Menu and reboot. Iomega told SlashGear that certification on both Tivo models should be completed in early Fall.
Since I have a previously modified internal 750GB TiVo S3, I had to go though some minor hacking with WinMFS. For more information on this subject, please visit tivocommunity and hack at your own risk!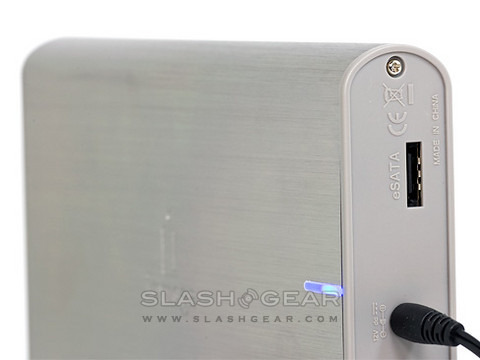 As soon as it was up and running, I set to work filling up the Expander with NBC's Olympic Games live-cast. Even when simultaneously using the dual-tuners for live recordings, playback of recorded files was smooth and with no sign of jerking or tearing. Seek noise is audible but at a reasonable level, much quieter than my PS3 and Motorola DTC 6416 DVR. My only complaint is the LED light, which is way too bright in a light controlled Home Theater room. It literally lit up my projector screen in the dark, but fear not, 3M masking tape came to the rescue.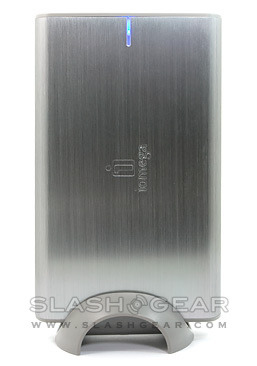 The Iomega DVR Expander come with an eSATA cable, energy efficient power adapter and cable, stand, quick start guide and one year warranty for $189.99. The question is, would I buy it if I can get an external enclosure, add a hard drive for the less or same price? Yes I would, the price is reasonable for a DB35 series storage device, I like the polished aluminum and it's quiet. More importantly, I could give it to a non-tech-aware family member, with minimal guidance, and they could "magically" see their DVR capacity jump with very little hassle.
[rating: 4]