Apple's TV app lands in iOS 10.2 and tvOS 10.1: What you should know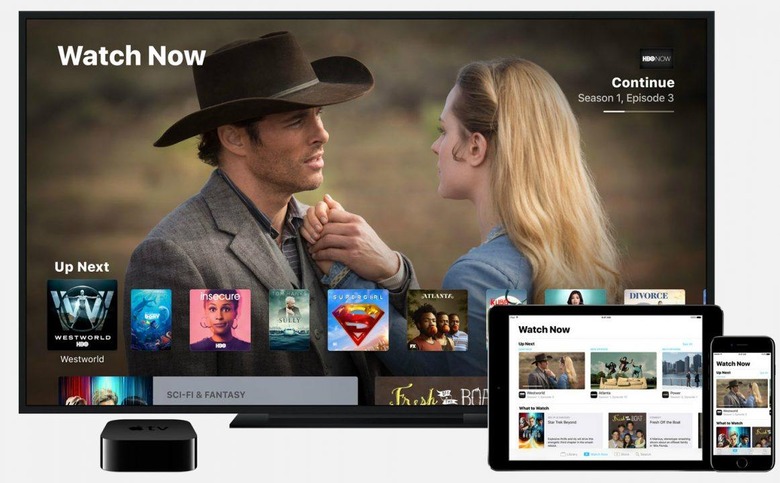 Apple's attempt to cut through the confusion of cable television continues, with its new TV app arriving on iPhone, Apple TV, and iPad today. Part of the iOS 10.2 release for iPhone and iPad, as well as tvOS 10.1, the TV app aims to put all of your streaming content – no matter the provider – into a single location. Along the way, Apple hopes to simplify how many login details you have to punch in too.
Apple showed off the app back in September, but its taken a while to make it out of beta and into the stable release. For those with an Apple TV and an iPhone, though, it may very well be worth that wait. Though the TV app does embrace cord-cutters who have done away with traditional cable service, that's not to say there's nothing to be gained if you're still a cable subscriber.
Single sign-on is Apple's answer to username and password fatigue. Rather than having to punch in the same credentials on multiple occasions, you enter your cable or satellite login just once. After that, in theory you have access to the app version of any subscription you have legal access to as part of your bundle.
That's the idea, anyway, though your provider does need to be on a list of participating cable and satellite companies if it's going to work. At time of publication that means CenturyLink Prism, DIRECTV, Dish, GVTC, GTA, Hawaiian Telcom, Hotwire, MetroCast, Service Electric, and Sling TV. Assuming the device you sign in on is connected to your iCloud account, any other iOS device using the same Apple ID will also log in. The current list of supported apps is as follows: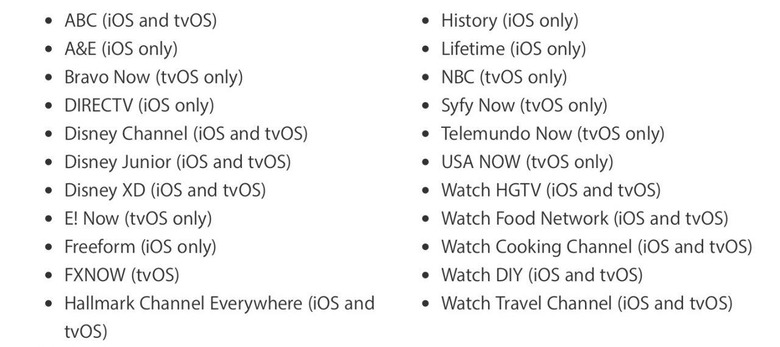 Once your services are signed in, you can either browse through them or use Siri to search them. The voice assistant can summon results based on TV show name, but also through more esoteric searches. You can ask for sports games which are currently showing, for instance, or even just ask for random suggestions. Since the TV app has all your logins already, it'll automatically pull up the correct app and begin playback.
Just as in the iTunes TV and Movies sections on the Apple TV, there are also curated categories in the TV app. That includes "Watch Now", which shows content from across services, and its "Up Next" sub-category, which highlights the next part or episode in whatever you've been watching. If you have a season pass to a show in iTunes, for instance, the next episode will appear in the "Up Next" category as soon as it's available to stream.
Once you've started watching, you can pause and then resume from where you left off on any other device. That's useful if you're in the middle of a TV episode on your iPhone during your commute home after work, and then want to pick it up again on your TV later on. Alternatively, you can buy new content or access you library directly from the TV app. Apple even changes the button mapping on the Apple TV's Siri Remote, so that pressing the home button now takes you to the TV app (you can change it back in the settings, mind).
It's not quite couch potato nirvana, however. While HBO and Hulu are supported, there are some conspicuous absences from Apple's unified app, not least Netflix. Amazon Prime Video is another obvious provider which isn't included.
NOW READ: iOS 10.2 hits iPhone with emoji explosion
In short, the usefulness of the TV app in reducing the feeling of hopping between content silos will depend entirely on which services you actually subscribe to. If you're a user of one of the supported cable or satellite companies, and have an HBO or Hulu subscription, then the TV application could be a tremendous time-saver. If not, though, you'll still be jumping from one app to another – and, in the case of Amazon Prime Video, potentially from one set-top box to another – in order to access everything you could stream.