Apple's Samsung dependency: iPhone 4 is full of foe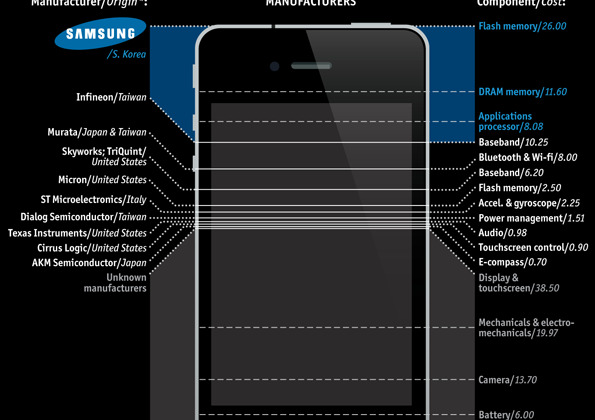 The paradox of Apple suing one of its biggest suppliers has been well commented on, with the Cupertino lawyers pulling no punches while engineers reportedly specify even more Samsung components on the production line. The Economist crunched the numbers and mapped them out to show just how much of a hand Samsung has in the iPhone 4, figuring that $45.68 of the component costs for a 16GB GSM unit go to the Korean firm.
That's roughly 26-percent of the total bill of materials (BOM) – which, based on various sources, amounts to around $178 per unit – but still a tiny proportion of the entire sticker price. An unsubsidized iPhone 4 is around $560, which after Foxconn takes its manufacturing share, leaves Apple with $368.
Now, that $368 has to cover all of the R&D expenses, packaging and other elements, so it's not like the entirety goes into the Apple bank account to collect interest. Nonetheless, it's an impressive example of what a premium product can achieve: Apple's focus on a small range of phones has helped maintain a market cache that reduces the need to discount and means that, even months after its release, the same device still has enviable levels of allure to the average consumer.
For Samsung, as The Economist points out, the economies of scale involved in supplying rivals with components means it's cheaper for it to produce its own range. That close relationship with Apple is under threat, however; Apple is reportedly looking to TSMC to provide the next-gen Apple A6 processor, as the company attempts to shift its dependency away from what has grown to be a significant competitor.