Apple's Phil Schiller confirms the iPad mini has stereo speakers

We may receive a commission on purchases made from links.
Rumors have floated around for quite a while that the iPad mini features dual-speakers. Apple didn't mention this during the product's announcement, however, leaving many to wonder if it is true. Now we have confirmation that the rumors are true via a simple email from Apple's Philip Schiller, which simply reads, "It is stereo."
On Apple's website, the iPad mini is listed as having a built-in speaker, which is a tad ambiguous. When the device was unveiled, no word was given either way on whether it contained single or stereo speakers. Further muddling up the speculation pool was Amazon's advertisement comparing its Kindle Fire HD with the iPad mini, which it listed as having a "mono speaker."
Trying to solve this once and for all, a reader over at 9to5Mac named Alex sent Apple's Vice President of Worldwide Marketing an email stating, "I understand the tech specs about iPad Mini online should cover everything, but the tech specs online neither confirm or deny the rumors of iPad Mini's speakers being stereo. Is it possible to get confirmation from the man himself as to whether these are mono or stereo?" Schiller replied in the affirmative, forever settling the great iPad mini speaker mystery.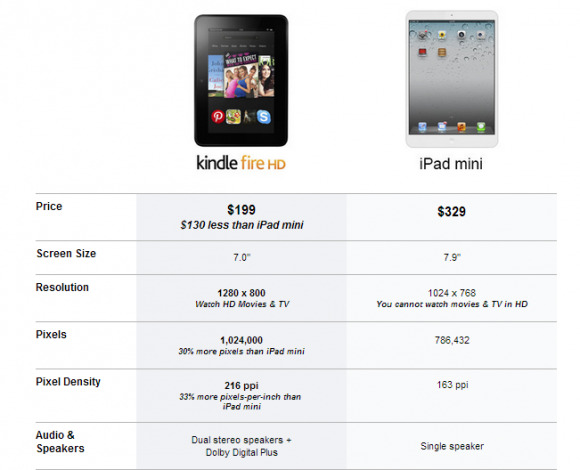 Shortly after this email was published, Amazon pulled the Kindle Fire HD vs. iPad mini comparison chart from its homepage. However, at the moment, when you search for "iPad mini" on Google, Amazon's comparison page still shows up listing the Apple device as having a "single speaker." The copy above the comparison chart still touts the Kindle Fire HD as having superior audio partly due to its stereo speakers.
[via 9to5Mac]