Apple's next iPhone may ditch 3D Touch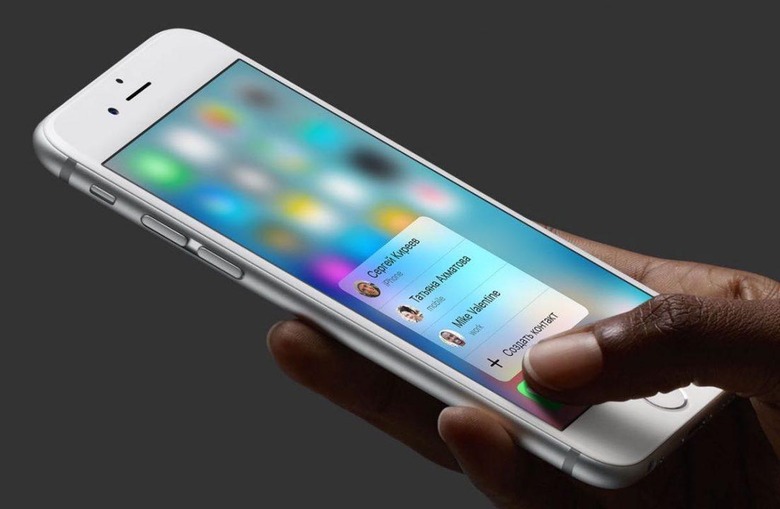 The iPhone's 3D Touch feature, which enables gestures based on how much pressure is used when tapping the screen, may not be the most popular or useful thing about the device, but it's become well ingrained throughout iOS since its debut on the iPhone 6s in 2015. But now there's word from Ming-Chi Kuo, the reliable, well-connected analyst with KGI Securities, that after only three years Apple may be ditching 3D Touch for one of this year's new iPhones.
Earlier this year, Kuo predicted that 2018 will see three new iPhone models: an updated 5.8-inch iPhone X and a 6.5-inch "iPhone X Plus," both with OLED screens, while the third model would use a 6.1-inch LCD display with the iPhone X's design. It's this latter device that will be the cheapest model, and in his latest write-up, Kuo adds that it will use new display tech without 3D Touch.
The new display on the 6.1-inch iPhone is said to feature "Cover Glass Sensor" (CGS) technology, which is both lighter and more resistant to impacts. This change means the iPhone's touch module will need to be moved from the display panel to the surface glass, while Apple will also add a "thin-film sensor" to the CGS, although it's not exactly clear what this will do.
All of this is said to result in an increase in price for each touch panel, creating a problem if this is supposed to be the cheapest of the new iPhones. To help offset the more expensive new display, Kuo expects Apple to drop the 3D Touch feature on this iPhone model, while the iPhone X's successor and "Plus" variant will keep the functionality.
Since 3D Touch hasn't been a big hit for iPhone users, it's reasonable to believe Apple could be moving away from it in favor of something else. There's also been rumors before about Apple working on a new curved display and new gesture controls, and the new thin-film sensor could play a part in that.
SOURCE MacRumors