Apple's iPad Pro slapped by Microsoft Surface for claiming PC chops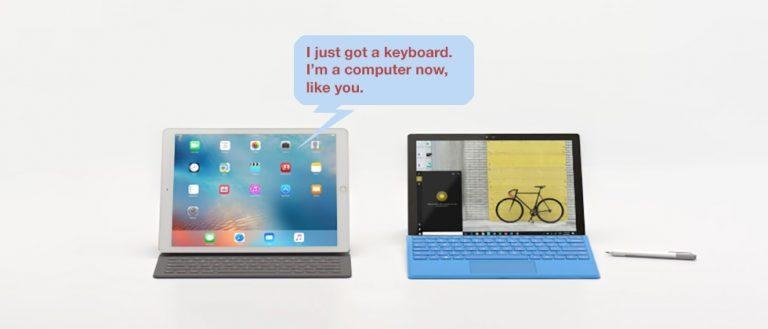 This morning another entry in the "lets call out Apple for their claims" series has been released by Microsoft. This video spot shows the Microsoft Surface Pro 4 speaking with Cortana to Apple's iPad Pro with its Siri. "I just got a keyboard," says Siri on the iPad Pro to the Surface Pro 4, "I'm a computer now, just like you." The viewer can see where this is going immediately. The iPad Pro is made fun of mercilessly.
"Just because you call something a computer doesn't mean it fits the description," said Microsoft PR in a press announcement of this video spot. "Cortana knows that the Surface Pro 4, with its powerful Intel Core processor, detachable keyboard with real keys and a trackpad, pen, touchscreen, full Office and external ports fits the description. Everything else is just late to the party."
In our
, Chris Davies notes how the device isn't actually a full replacement for a standard notebook computer – but does a good job of being a PC in a different way. "No, you're not going to mistake the Type Cover for a true laptop keyboard – if that's what you're looking for then please, step this way, because Microsoft would love to introduce you to the Surface Book – but I've been surprised at just how good it is to type on now."
Microsoft – and its partners – have never been afraid of creating a large variety of different sorts of computers, in all shapes and sizes. The Surface Pro 4 just happens to be the one closest to what Apple's presented in the iPad Pro.
The iPad Pro, on the other hand, isn't a device that we'd quite so quickly take as a replacement for a laptop straight away. Have a peek at our
to see how it works for work.