Apple iLife 11 Announced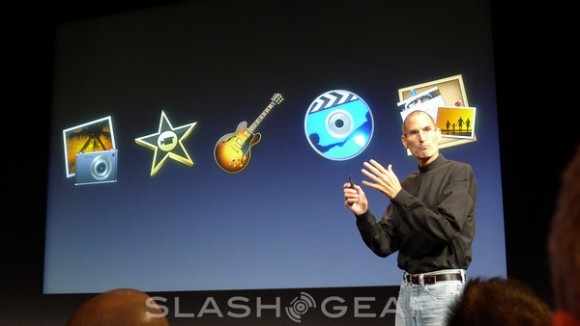 At today's Apple event, everyone is anticipating all sorts of different products. Specifically, the majority is waiting to see some hardware. But, Apple decided to start on the software side of things, and officially unveiled their next iteration of iLife, iLife 11. After being upgraded every year or two, Steve Jobs says that this is the best out there for what the software does.
The announcements regarding iLife 11 are really just a preview of the software. Steve Jobs stated at the beginning that the Full Screen mode from the previous version of iLife is back in full swing, and now includes a Live Mode. There are a lot of Facebook enhancements along for the ride this time around, too.
Apple made it easier and faster to email your photos, and there's an inclusion of more slideshows as well. The details are still coming in, so stay tuned.
Update: Apple has detailed iPhoto '11, iMovie '11 and GarageBand '11.  iLife 2011 will be preloaded on all new Macs, and is a $49 upgrade for existing users. It's available today.
Press Release
Apple Introduces iLife '11 With Major Upgrades to iPhoto, iMovie and GarageBand

CUPERTINO, California—October 20, 2010—Apple today introduced iLife® '11, a major upgrade that gives Mac® users even more great ways to create and share photos, movies and music. iPhoto® '11 has a whole new look, with stunning full screen modes for Faces, Places and Events. iMovie® '11 makes it easier than ever to edit videos and quickly transform them into fun theatrical trailers for easy posting online. GarageBand® '11 introduces new ways to improve your playing and create great sounding songs with Flex Time and Groove Matching. Free with every new Mac, iLife '11 is available as a $49 upgrade for existing users.

"iLife is widely regarded as the best suite of 'Digital Life' applications in the world, and iLife '11 makes them even better," said Steve Jobs, Apple's CEO. "iLife now makes it easier than ever to create books and letterpress cards, make amazing movie trailers from your personal videos and post them online, and make your band sound far better or teach yourself piano or guitar."

iPhoto '11 features stunning new full screen modes that take advantage of your Mac's brilliant display for browsing, editing and showcasing your photos. Sharing your photos is easier than ever in iPhoto '11, whether you send them by email using one of eight beautiful themes, post them to your Facebook wall with a single click, or play them in full screen with one of 12 professionally designed slideshows. iPhoto '11 features a completely new approach to creating books and cards with a sleek carousel interface, intelligent book layout and a bookshelf that displays all your projects. New letterpress cards let you combine your photos and text with elegant imprinted designs to create unique wedding invitations, birth announcements, holiday greetings and more.

iMovie '11 helps you turn your videos into captivating Hollywood-style trailers that are fun to watch and share. You can choose from 15 different genres including Adventure, Romantic Comedy and Epic Drama, each one complete with its own unique titles, graphics and cinematic soundtrack. Powerful new tools make it easy to selectively adjust audio levels and apply sophisticated visual effects like flash and hold, instant replay and jump cuts with a single click. People Finder analyzes your videos and marks sections containing faces, so you can quickly find the perfect clips for your trailer or movie. iMovie '11 also adds exciting new themes that make your videos look like professional news or sports programs.

GarageBand '11 includes two new ways to fix or change the timing of your recordings. Flex Time lets you move, stretch or shorten individual notes by clicking on just the part of the audio waveform you want to change, without affecting the rest of the recording. With Groove Matching, you can select any track as the "Groove Track" and all other tracks will instantly match its rhythmic feel. GarageBand '11 adds seven authentic-sounding new guitar amps, five fun new stompbox effects, and 22 new Basic Lessons for piano and guitar. The new "How did I Play?" feature listens while you play along with any lesson, highlights mistakes and tracks your progress to help you become a better musician.

Pricing & Availability

iLife '11 is available immediately for a suggested retail price of $49 (US) through the Apple Store® (www.apple.com), Apple's retail stores and Apple Authorized Resellers. The iLife '11 Family Pack includes five licenses and is available for $79 (US) and the Mac Box Set which includes iLife '11, iWork® and Mac OS® X v10.6 Snow Leopard® is available for $129 (US).

iLife '11 requires Mac OS X version 10.6.3 or later, a Mac computer with an Intel processor, 1GB of RAM, a DVD drive for installation and 5GB of available disk space. iPhoto print products and GarageBand Artist Lessons are sold separately and are available in select countries. Full system requirements and more information on iLife '11 can be found at www.apple.com/ilife.

Apple designs Macs, the best personal computers in the world, along with OS X, iLife, iWork, and professional software. Apple leads the digital music revolution with its iPods and iTunes online store. Apple is reinventing the mobile phone with its revolutionary iPhone and App Store, and has recently introduced its magical iPad which is defining the future of mobile media and computing devices.