Apple's future keyboards could be customizable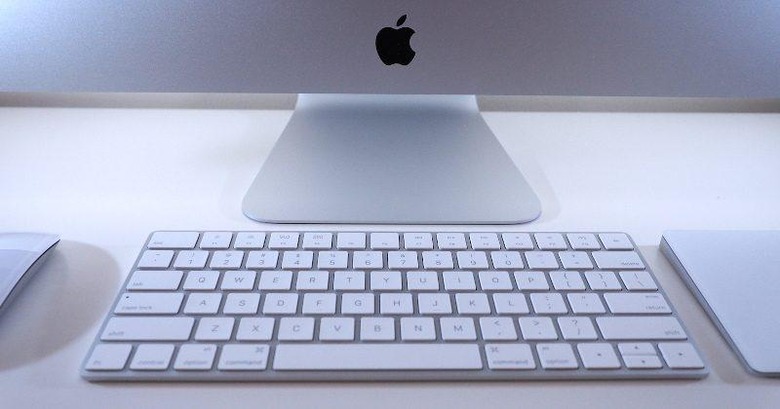 If you thought Lenovo went crazy with its Halo Keyboard on the Yoga Book, take a gander at what Apple is speculated to have in store for the not so distant future. Admittedly, it's not as eccentric as a TRON-like touch screen keyboard, but it is just as unorthodox. Without ditching actual physical keys that everyone loves, Apple's next keyboards will sport tiny e-ink indicators. The purpose? To allow users to change what's written on the key and, of course, what the key press does, enabling them to practically turn it into an emoji keyboard.
OK, the emoji angle is just one, probably not so useful case, but that's indeed just one possible application of this reported not entirely new idea. Customizable keyboards have been in existence since way back in 2011, when Art Lebedev Studio outed the Optimus Popularis. Apple's version, however, will bring that to the masses, without the $1,000 price tag.
The more serious purpose of this new keyboard is to be able to change keyboard layouts on the fly, also changing what is displayed on the keys. While the QWERTY layout is by far the most common, there are nearly a dozen other keyboard layouts used around the world. While you can already change those via operating system settings, regular keyboards have fixed QWERTY (or AZERTY in some cases) markings.
The side effect is that the same feature can also be used to make any key produce any other key stroke, with a matching visual representation on the key itself. That includes shortcuts for graphics software functions or, yes, emojis.
At the moment, there is no confirmation yet about this new Apple venture, but its collaboration with Foxconn-backed Sonder Design, who works on such a keyboard, is perhaps proof enough. In light of the OLED strip expected to be on the new Mac's keyboard, it seems that Apple has developed a fascination and obsession with one of the most traditional, and admittedly untouched, input methods of all time.
We will get to see the first part of that new-found fondness when Apple announces the new MacBook Pro at its October 27 press event.
SOURCE: Wall Street Journal