Apple's education revolution roundup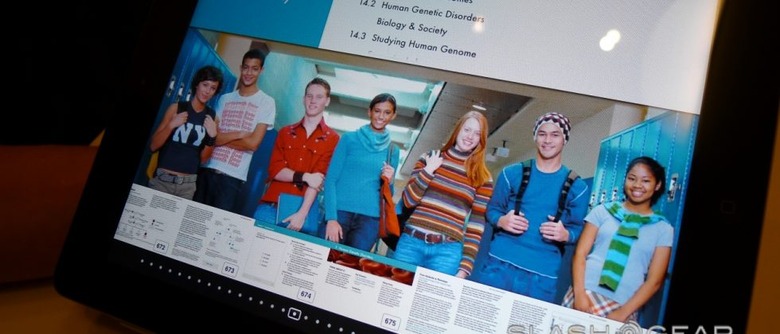 Apple's education-driven press event took place earlier today in NYC and unveiled the company's plans to revolutionize textbooks and the entire learning experience. The news announced almost made us want to go back to school. In case you missed it, here's a roundup of the magic that was unleashed.
Starting today students will be able to easily access digital textbooks from their iPads, the star device of Apple's education revolution. Apple unveiled the iBooks 2 app that now includes a section for textbooks and an overall improved user experience. Be sure to check out our hands-on with the new iBooks.
The textbooks to be offered in the iBookstore will cost only $14.99 or less. These digital textbooks will always be up to date and can be easily purchase with one click. Publishing partners include Pearson, Houghton Mifflin Harcourt, and McGraw Hill, which make up about 90 percent of all textbooks in the US. The first to be available will be high school textbooks.
And to create the interactive digital textbooks, Apple is offering a new tool called iBooks Author, which was rumored to be like a "GarageBand for eBooks." Well, from our hands-on with the app, it seems even more intuitive, letting you easily create interactive e-books through templates and a drag-and-drop interface. And perhaps most amazing of all is that the app is free and is available starting today from the Mac App Store.
Additionally, Apple revealed a new iTunes U app, which lets teachers create custom classroom experiences, give assignments, and interact with students. The app works with iBooks 2, for notes, full courses with videos, documents, apps, and textbooks from the iBookstore. The app made for iPads is available to download for free. Check out our hands-on with iTunes U.
If you still want to know more, Apple has posted the full event video here.