iPad at the head of Apple's Education event in NYC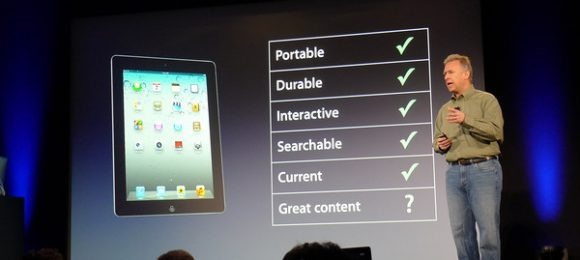 Apple held an event this week promising no less than an education-heavy set of announcements, Phil Schiller starting the event off right with a series of affirmations that Apple has always been dedicated to helping students learn. Putting the same passion and energy into every product Apple makes is the same that they've done for their education business, and now a new page is being turned. "Students are being introduced to the iPad."
Apple's iPad sits at the head of students minds in every level of education, said Schiller, students from k-8 all the way up to highschool, college, and more. But education is still "in the dark ages." A video shown with teachers from across the United States shows teachers and professors speaking about how the technology they need is not what they have, classrooms are too large, students are not graduating. Schiller returned to the stage and said what we knew was coming: "these teachers need help, and we try to figure out what we can do at Apple to help."
This year during the holidays, the iPad, says Schiller, was the number one most wanted item on teen's lists. This can be tied to the thin and light nature of the device, how its powerful and has an all-day battery life, and is affordable on top of that. The iPad also has 20k education apps built specifically for it, including iBookstore which will be working, we're sure into the rest of the announcements Apple has for this week – Reinventing Textbooks. Stick with us the rest of the week (especially today) to see what Apple has in store for students through the iPad.
Continue to follow along today with http://live.slashgear.com/ as well for up to the second updates on this event!