iBooks Author is here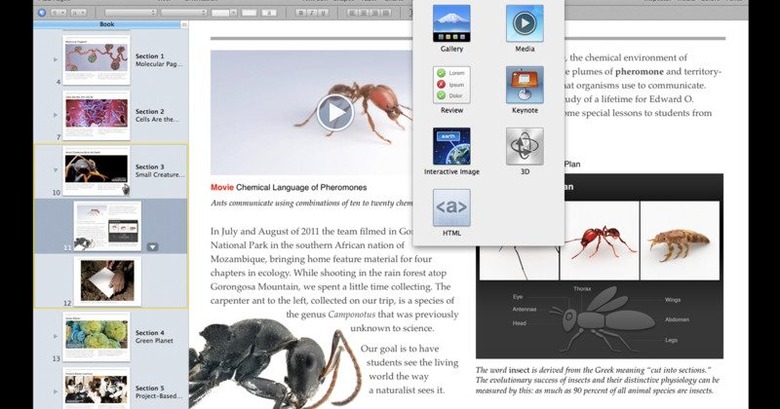 Apple has only just finished announcing iBooks Author, its ultra-simple drag & drop interactive book creation tool, and already it's up for download. A 136MB OS X application, you can download iBooks Author through the Mac App Store [iTunes link] and be creating ebooks in minutes. Although Apple's focus today was on education, the scope for iBooks Author is a lot broader than just classroom and lecture hall tools.
Instead, Apple expects various industries to be interested in creating their own interactive titles. That could include technology, children's books, design books and more; until now, creating a truly interactive ebook for the iPad has required some serious investment of time, not to mention money, but Apple's new app significantly streamlines both.
Rather than complex coding and messing with page layouts, you can simply drag content into a template and have it automatically format to suit. Videos, audio and images are supported, along with Word documents – that are instantly split into chapters with headings and formatting – and you can drop Keynote presentations in and have them change into interactive slideshows.
Those with HTML and JavaScript skills can add their own content through homegrown widgets, though you needn't be a code genius in order to get something halfway decent ready. Once it's done, you can instantly push it to the iBookstore. More details from today's launch here.
iBooks Author is a free download [iTunes link], though you'll need a Mac running OS X 10.7.2 Lion in order to use it.