Apple's best-selling phone isn't iPhone X, Galaxy S9 fades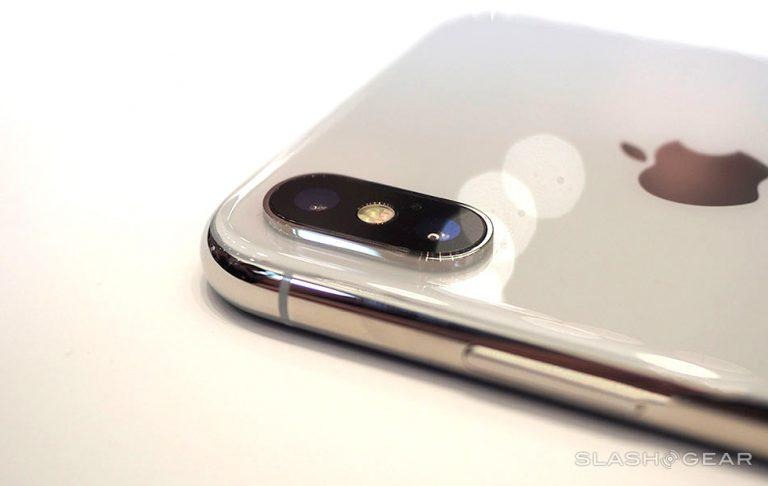 Apple might want to reconsider their next-phase set of iPhones if the rumors are true. Word was that Apple will be releasing three devices, all with iPhone X-like displays. In the weeks and months after the iPhone X was first released, that one phone dominated shipments around the world, according to Strategy Analytics back in Q1, 2018. Now it would appear that the tide has turned, somewhat – for sales, anyway.
According to Counterpoint Research, the month of May saw Apple's iPhone X beat in end-user-sales by two devices. One was Samsung Galaxy S9 Plus, the other was the iPhone 8. Now, to be fair, the percentage numbers in this study are RIGHT on top of one another, and several are within a margin of error – have a peek: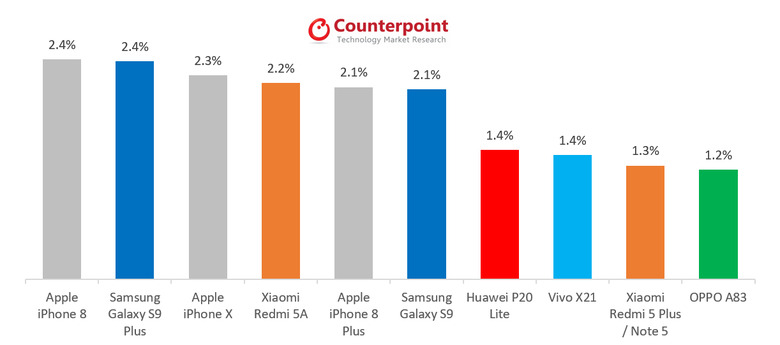 If we take a peek back at this same research firm's sales chart for the month of April, we see the Samsung Galaxy S9 in a slightly more firm lead. The Galaxy S9 and S9 Plus were first released in the middle of March, so major sales of both the S9 and the S9 Plus make a lot of sense for April.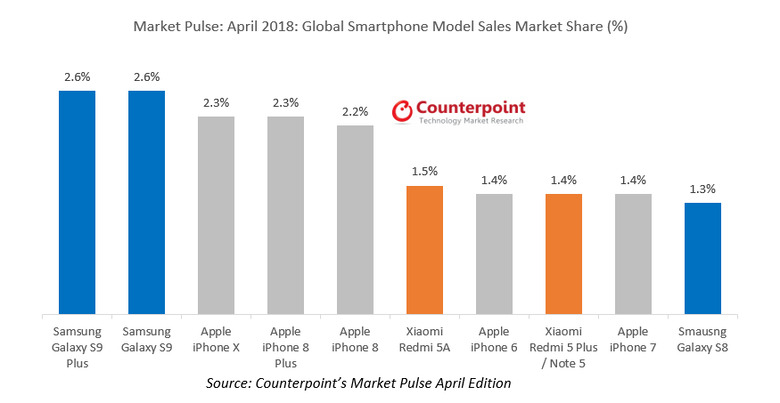 Next you'll see March, a month in which Apple's iPhone X was far and away the most popular smartphone. This smartphone was released in November of 2017 – several months before this chart was recorded. This sort of market domination isn't normal. Notice here the amount of space between the iPhone X and iPhone 8, too.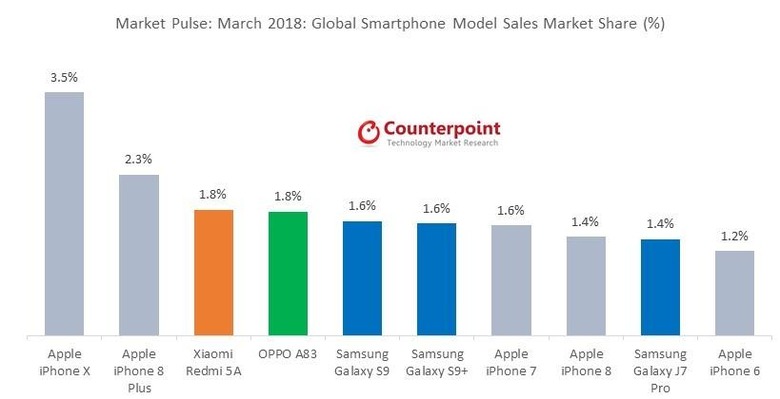 Further back in time we see iPhone X keep an even larger lead – which incidentally means several things. Samsung Galaxy S9 assists in the iPhone (in general) taking a more even-keeled position in the market. The iPhone X hype cooled over the last few months. Counterpoint shows us that even when a challenger seems to come calling (see Xiaomi Redmi 5A), they seem to fall back in a matter of weeks.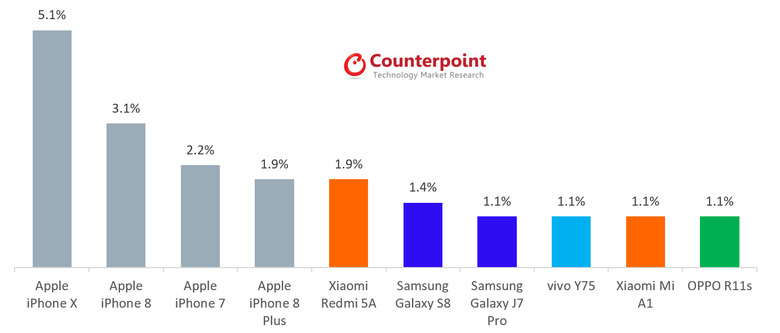 What's the deal here?
Over the last few months, it would appear that the original hype surrounding iPhone X died down somewhat. iPhone X hype remains at least as high as that for any other iPhone, but here we're seeing Apple's slightly more traditional handset even-out in popularity with its more radical sibling.
Apple's probably too far into the production process to change their plans now. Not that they'd risk appearing to go back in time with designs for iPhone at this point in history anyway – but still. When the hype doesn't keep hold, Apple-loving smartphone buyers go for the device that they feel most familiar with – or so it might seem!