Apple's $49 Thunderbolt Packs In Chips To Justify Price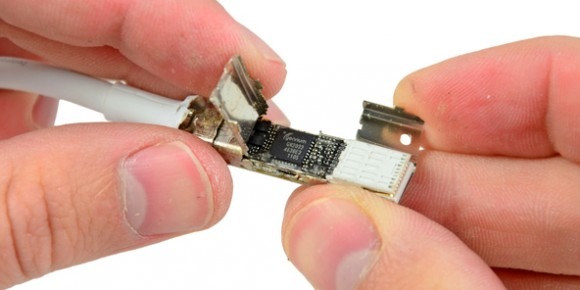 What's inside a Thunderbolt cable? If you answered "wires, magic, and a direct route for $49 to rush from your wallet to Apple's pockets" then you're a cynic and we love you, but it turns out you're actually getting more for your money. iFixit took their teardown tools to the official Apple Thunderbolt cable, and found chips-a-plenty lurking inside.
Surrounded by an attending cluster of resistors are twelve chips of varying function, with the key components being supplied by Gennum. The company is a "signal integrity solutions" specialist, and a pair of its GN2033 transceivers are squeezed into each Thunderbolt plug. According to the product page, the GN2033 improves data reliability over copper cables; future iterations of Thunderbolt will use fiber optics, but for the moment it uses copper instead.
So, plenty of complexity inside, but it's still an expensive proposition. Currently only Promise is shipping a Thunderbolt-based peripheral, in the shape of the Pegasus RAID, and that starts from $999 for a 4-bay model and climbs to $1,999 for a 6-bay model. Further competition will arrive later this year, when LaCie releases the Little Big Disks we benchmarked last week.