Promise Technology ships Thunderbolt Storage System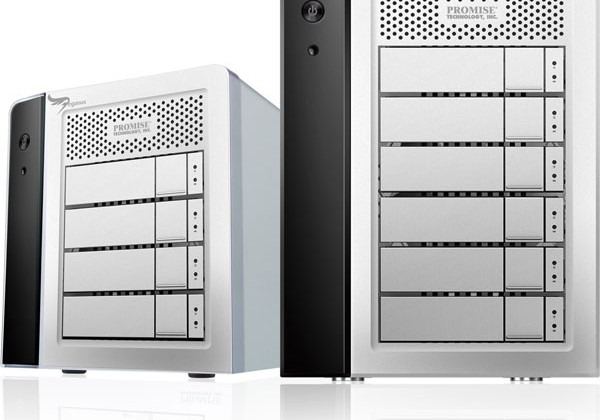 There are a few storage systems that will work with the new Apple and Intel designed Thunderbolt port for more bandwidth for devices. Promise has announced that it is now shipping a new storage device that uses the Thunderbolt port. The new storage device is called the Pegasus RAID solution. The Pegasus comes in 4-bay and 6-bay flavors depending on the needs of the user. The storage arrays support from 4TB to 12TB.
Both the 4-bay and the 6-bay version are available for order from the Apple Online Store. The Pegasus device can be used for professional level video storage and editing and can play multiple streams of 8 or 10-bit HD video via the Thunderbolt port on new Mac computers. The storage devices were designed from the ground up for media and entertainment users. The Thunderbolt port provides the storage devices lots of bandwidth for data.
The Pegasus can deliver up to 864MB/s, which is 20 times faster than USB 2.0 and eight times faster than FireWire 800. The device ships with made for Mac OS X management software. The devices are also made to be quiet and green with little power need. Both of the devices support RAID 0, 1, 5, 6, and 10 and have dual Thunderbolt ports. The 4-bay solution is $999 and the 6-bay is $1,999.