Apple WWDC 2009 keynote to be Schiller, not Jobs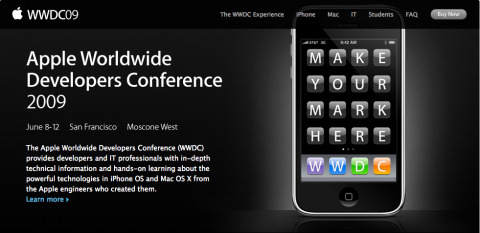 Tickets are all sold out, but if you were headed to Apple's WWDC next month in the hope of seeing Steve Jobs take to the stage, prepare for disappointment.  Apple have confirmed that Philip Schiller, senior VP of worldwide product marketing, will be delivering the WWDC09 keynote, while the rest of the week will offer more details and demonstrations of OS X Snow Leopard and iPhone OS 3.0.
The keynote kicks off at 10am PT on June 8th 2009, and begins several days of programming, code-comparing and general hands-on excitement of the sort that makes OS X devs moist.  Apple will also roll out the final Developer Preview release of Snow Leopard.
SlashGear will be attending the WWDC09 keynote, and live blogging the whole event at http://live.slashgear.com/ from 10am PT June 8th (e.g. 1pm ET).  It'll also be an opportunity for iPhone and iPod touch users to try out our new mobile liveblog client, specially formulated for the Apple touchscreen devices.  The same news, the same automatic refresh, but perfectly to-scale on your iPhone or iPod touch!
Press Release:
Apple Worldwide Developers Conference to Kick Off with Keynote Address on Monday, June 8

CUPERTINO, California—May 13, 2009—Apple® will kick off its annual Worldwide Developers Conference (WWDC) with a keynote address on Monday, June 8 at 10:00 a.m. A team of Apple executives, led by Philip Schiller, Apple's senior vice president of Worldwide Product Marketing, will deliver the keynote. WWDC will offer in-depth sessions on both iPhone™ OS 3.0, the world's most advanced mobile operating system, and Mac OS® X Snow Leopard™, an even more powerful and refined version of the world's best desktop operating system and the foundation for future Mac® innovation.

"Last June, we gave developers an early look at the powerful new technologies that form the underpinnings of Mac OS X Snow Leopard," said Bertrand Serlet, Apple's senior vice president of Software Engineering. "At WWDC, we will be giving our developers a final Developer Preview release so they can see the incredible progress we've made on Snow Leopard and work with us as we move toward its final release."

Snow Leopard and Mac technical sessions will showcase hundreds of refinements to the operating system and dive deep into its new technologies including a 64-bit architecture, QuickTime® X, next-generation multicore and GPU processor support, and amazing new accessibility technologies. iPhone OS 3.0 technical sessions will cover introductory and advanced concepts to help developers get the most out of the iPhone OS 3.0 SDK and over 1,000 new APIs available for iPhone OS 3.0.

WWDC also offers attendees the unique opportunity to work side-by-side with Apple engineers to solve code-level issues, gain insight into development techniques and get expert advice on interface design.

Other activities at Apple's WWDC 2009 include:

more than 100 technical sessions presented by Apple engineers on a wide range of technology-specific topics for developing, deploying and integrating iPhone OS 3.0 and Mac OS X technologies;

over 1,000 Apple engineers presenting the latest in Apple technologies and providing one-to-one direction in hands-on labs; and

the opportunity to connect with thousands of fellow iPhone and Mac developers from around the world.

Visit the Apple Worldwide Developers Conference 2009 website for registration and more details at http://developer.apple.com/wwdc.