Apple worker scrutiny sees Foxconn open doors and wallet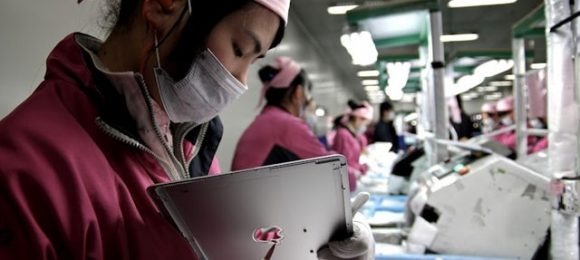 Apple's supplier worker conditions are again making headlines, with a behind-the-scenes report into Foxconn along with news of a significant pay increase for employees going some way to diffuse criticisms of workforce standards. Foxconn announced this weekend that it was increasing worker salaries by up to 24-percent, pointing out that even before the raise it was still paying above Chinese minimum wage requirements. Meanwhile, ABC's Nightline was invited to tour a Foxconn facility in Shenzen, China, to get a rare chance to see the production processes behind the coveted Apple devices.
Foxconn's pay increase will take effect as of February 1, the company has confirmed. Salaries are rising by between 16- and 25-percent, though the actual figure depends on which of the company's facilities staff are employed at. Monthly pay now climbs to between 2,200 yuan and 2,500 yuan ($220 to $250) at the Shenzhen plant Nightline visited, up from roughly 1,800 yuan ($180) previously.
Overtime has also been cut, with staff previously working up to 80hrs more per month than their regular contracted hours. The pay rise will also help offset any loss in earnings as a result of the new overtime limits, Foxconn claimed.
The production line – and others Apple uses – has been in the spotlight recently after widely-reported claims of worker mistreatment. Apple requested an independent inspection by the Fair Labor Association, starting with Foxconn and then moving on to Pegatron and Quanta among others, while CEO Tim Cook promised monthly reports into conditions.
Nightline's visit – which will air on ABC tomorrow – is billed as the first real behind-the-scenes glimpse behind the production line, reportedly hands-off by Foxconn and Apple themselves. Employees report feeling tired though not necessarily unhappy; ironically the FLA's investigation will use a computerized questionnaire presented on an iPad. Although some workers are expected to say what they believe is expected of them by their employer, the scale of the survey – encompassing 35,000 people – should mask individual opinions, FLA auditors claim.