Apple wins Galaxy Tab 7.7 European ban but Samsung's 10.1N slips through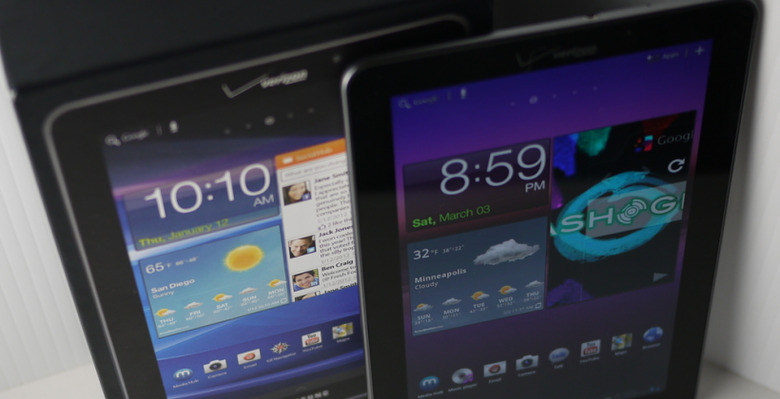 Apple has secured a European sales ban on the Samsung Galaxy Tab 7.7, convincing a Dusseldorf appeals court that it infringes its patents, though another attempt to get the larger Samsung slate blocked failed. The fast-tracked case ruled that the 7.7-inch Galaxy Tab 7.7 infringed Apple's patented tablet designs, but that Samsung's redesign of the Galaxy Tab 10.1N to work around those same designs was sufficient to permit European sales.
Unsurprisingly, Samsung has welcomed the court's decision around the Galaxy Tab 10.1N, though with the Galaxy Tab 10.1 2 already announced it's unclear how many of the older variant it expects to actually go on and sell.
"Samsung welcomes the court's ruling which confirms our position that the GALAXY Tab 10.1N does not infringe Apple's intellectual property and does not infringe laws against unfair competition. Should Apple continue to make legal claims based on such a generic design patent, design innovation and progress in the industry could be restricted" Samsung
It's not the first time the Galaxy Tab 7.7 has come under fire from Apple. Samsung was forced to pull the tablet from demo tables at IFA 2011 only a day after it was officially launched, after Apple's legal team swung into action and hammered it with an injunction. Apple had already secured a ban on sales in Germany, but the ruling this morning extends that across Europe, something Samsung is not entirely happy about:
"Samsung is disappointed with the court's ruling. We will continue to take all available measures, including legal action, to protect our intellectual property rights and defend against Apple's claims to ensure our products remain available to consumers throughout the European Union" Samsung
In the original German ban, Samsung managed to convince the court that the subsidiary operating in Germany was distinct from the South Korean parent company. That excuse didn't hold in the appeal today, however, with the court deciding that Samsung GmbH operates in Germany on behalf of Samsung Korea as a whole, and thus the ban should apply across the European Union.
Somewhat confusingly, a UK court decided earlier this month that the Galaxy Tab 7.7 – among other models – do not, in fact, copy the iPad's design. It's not clear how the rulings from the different countries will sit together, though Samsung is expected to appeal today's German decision.