Apple TV one-tap setup from iPhone quietly capitalizes on Bluetooth LE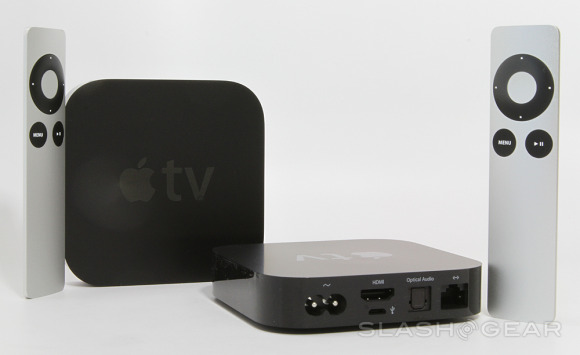 Apple has added one-tap instant setup to the Apple TV, using Bluetooth LE and an iOS 7 device to automatically load WiFi network and Apple ID information to the streaming set-top box. Quietly introduced today, the new feature appears to have been enabled in Apple TV OS 6.0 – re-released earlier this week – and helps new Apple TV owners to avoid punching in setup details such as complex WiFi passwords with the bundled remote.
Instead, as long as the iOS device is running iOS 7 and the Apple TV is up to date, moving the two near to each other – Apple recommends a brief tap, just to be sure – is enough to trigger an impromptu Bluetooth connection and swap all the details over. It will work from an iPhone (4s or later), an iPad (3rd-gen or later), iPad mini, or iPod touch (5th-gen), all of which include Bluetooth LE support.
In addition to the Apple ID and password, and WiFi credentials, the new system also pushes over language and region format preferences. The iOS device needs to have Bluetooth enabled as well as be connected to the WiFi network the Apple TV is to be hooked up to; obviously if you're running it off an ethernet connection, that doesn't matter.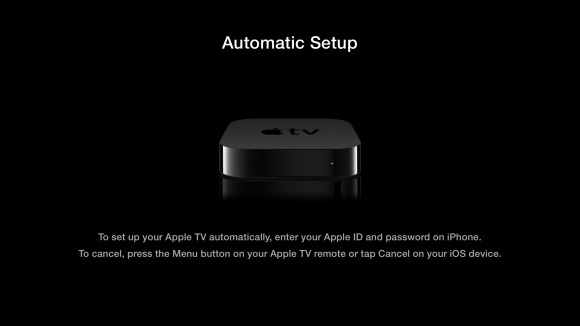 Although not quite iBeacon, Apple's new approach to using Bluetooth LE is a sign of how the company intends to leverage the short-range, low-power wireless standard. iBeacon, a feature added in iOS 7, is effectively Apple's answer to NFC: it's expected to be used for mobile payments, indoor positioning in malls, stadiums, and other venues, and other purposes.
Apple isn't the only company to be looking to Bluetooth LE for that sort of functionality. PayPal recently announced Beacon, a compact wireless dongle that it intends to offer to retailers who want a simple way to connect their point-of-sale systems with the PayPal apps on smartphones.
Those without an iOS device or not running iOS 7 can still bypass scrolling through the on-screen keyboard when setting up the Apple TV, by pairing a Bluetooth keyboard with the box.
VIA TUAW and TechCrunch