Apple TV 160GB gets price cut; better iTunes 9 integration imminent?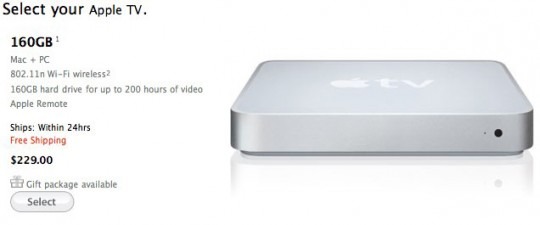 Only the other day we were wondering whether Apple would be doing anything interesting with their Apple TV DVR and mediaplayer what with iTunes 9's nifty Home Sharing functionality.  Today, while there's no new software announcement to be had, the Cupertino company have axed the entry-level 40GB Apple TV and given its 160GB big-brother a $100 price cut.
The 160GB Apple TV used to be priced at $329 and now is down to $229, the previous price of the 40GB model.  That's a considerable cut for four-times the storage, and it leaves us suspicious of possible new software or even hardware on the horizon.
That hardware could include integration with iTunes 9's Home Sharing, together with sofa access to the new iTunes LP media-enriched albums also announced last week.  No word on when that might happen, however.
[via Gadget Review]