Apple tablet SIM-tray spotted for sale; Foxconn tipped as manufacturer (again)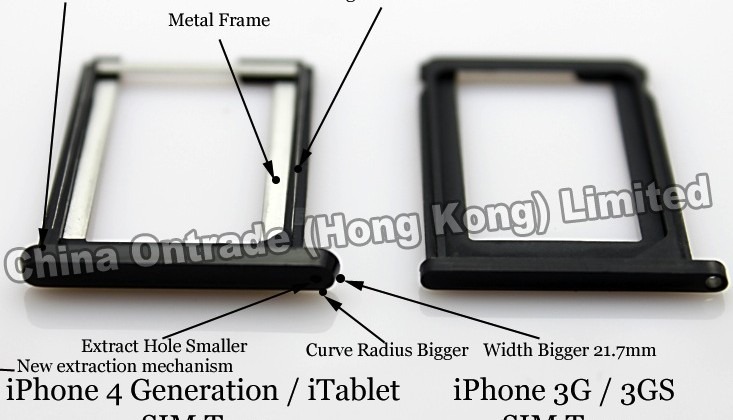 Now the SlashGear team love tech in all its myriad forms, but even we'd have trouble mustering too much enthusiasm for a SIM tray.  However, we'll make a semi-exception for a tray tipped to slot into Apple's fourth-gen iPhone or "iTablet"; according to ChinaOnTrade, this part – which they claim to have directly sourced from Foxconn, already fingered as a potential Apple Tablet manufacturer – will go on sale October 23rd for $14.05.
Of course, without an Apple tablet for it to slot into, your $14.05 is pretty much wasted.  However, the design tells us (maybe) a little about the shape of the device it's intended to be used with; it's larger than the iPhone 3GS SIM tray, and uses a new extraction mechanism; inside there's a metal frame which will presumably prevent twisting and keep the whole thing more stable in case you need to frequently remove it.
The outer curve radius is bigger, too, which suggests that the device it's used in is thicker than the iPhone 3GS.  All that certainly fits in with the concept of a chunkier, larger-screen tablet; let's just hope that we don't have to piece together the whole thing from individual components before Apple make it official.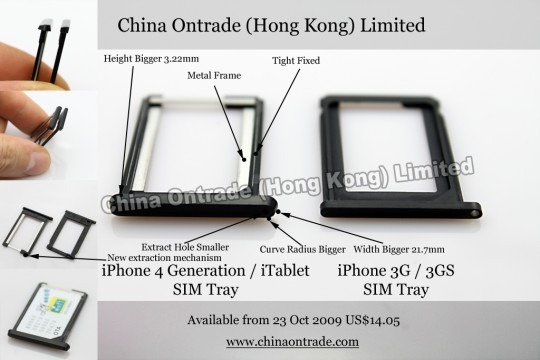 [via Engadget]