Apple tablet casing leaks?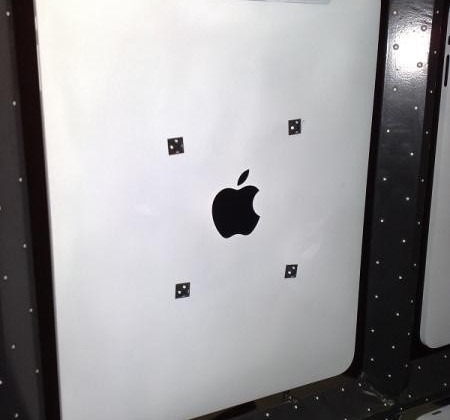 There's a little over an hour until Apple's Steve Jobs takes to the stage to – we're presuming – announce the new Apple tablet, but to tide you over how about some purported leaked images of the slate's casing.  Briefly showing up on a Chinese messageboard, and then promptly deleted, these shots show an indecently thin chassis together with several cut-outs and notches presumably for charging, buttons and headphones.
Judging by one of the photos – which shows four of the casings along with a pretty intimidating robot arm – the shots were taken during wireless radiation testing.  The tablet is presumed to have an internal 3G connection – perhaps even support for both Verizon and AT&T – so that certainly makes sense.
Earlier on today shots of the front of the tablet – including the device powered on – were seemingly leaked.  Still, if these do turn out to be authentic, it's impressive that Apple have managed to keep them under wraps for so long.  Join SlashGear's liveblog of the whole Apple event over at http://live.slashgear.com/!