Apple Store is down: iPad mini incoming!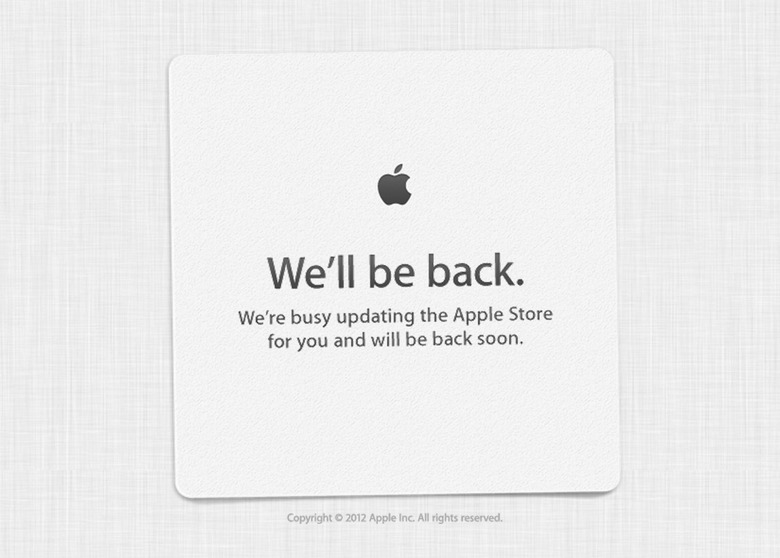 Apple's online store has been taken down for updating, ahead of today's "little" event, with the expectation that a new iPad mini along with a 13-inch MacBook Pro with Retina display are being added to the virtual shelves. Meanwhile, SlashGear is warming up the liveblog machine, ready to bring you all the details of what's announced as they're revealed.
The big news – or little news, really – is the smaller iPad, which we're expecting to come in at 7.85-inches and have some impressive justification as to why Steve Jobs well-circulated comments that "tweener" tablets are pointless don't hold true with this homegrown model.
The new MacBook Pro 13R isn't the only piece of OS X-related hardware tipped, either: there's been chatter of an iMac refresh, and potentially a new Thunderbolt Display, though sources can't agree on whether Apple's supply chain is up to providing 21.5-inch or larger Retina-resolution LCD IPS panels for the desktops. Apple's Mac mini could also be due a tweak, with whispers of improved performance without a physically larger box.
Apple has surprised us this morning by quietly announcing that Apple TV owners will be able to watch a livestream of the whole event via the set-top box. It's unclear at this stage whether any other Apple device owner will have access to the same stream, but we'll be keeping an eye out for you.