Apple TV users can view live video from iPad mini event today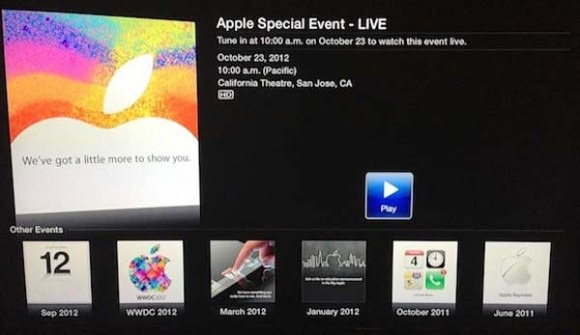 Today is a big day for Apple fans with a new special media event being held by Apple. While we still don't know for sure exactly what Apple will be showing us at the event, it's safe to say that this is going to be the official unveiling of the new in smaller iPad mini. If you have an Apple TV set-top box, an interesting icon has turned up today on the device.
Reports indicate that a new icon titled "Apple Events" is available on the Apple TV set-top box. When you click the new icon, there is an icon inside for an "Apple Special Event- Live." The instructions for the event tell viewers to tune in at 10 AM on October 23 to watch live video from the California Theater in San Jose California.
Apple will be broadcasting the iPad mini unveiling live. At this point, there's no indication that the live video stream will be available through Apple.com or other means. If you don't have an Apple TV, and you want to know what's going on at the event in real time, be sure to tune in later this morning for our liveblog.
That liveblog will start at 10 AM Pacific time or 1 PM Eastern time. The live streaming of the iPad mini event today will be the first time in several years that Apple has offered live video streams of special events. The last event Apple streamed live was in 2010 and that event was called "Back to the Mac."
[via MacRumors]