Apple Store App Adds EasyPay And In-Store Pickup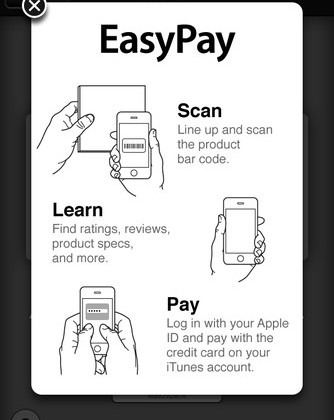 Apple has updated its iOS "Apple Store" app [iTunes link] with support for EasyPay and Personal Pickup, the company's new, streamlined ways to buy shiny Apple kit. As expected, EasyPay allows users of the app to scan product barcodes in-store, read reviews on their iPhone and then charge the items directly to the credit card associated with their iTunes account.
Meanwhile, Personal Pickup is a new array of services available to those using the app to buy new hardware and accessories. Instead of defaulting to delivering those purchases to your home or office address, shoppers can instead request to pick up their order from an Apple Store. The company is aiming to have orders ready for collection within an hour from the point of payment.
Finally, there's a new tracking service within the app, giving shoppers eager to follow the progress of their online order a straightforward way to do so. It also allows you to see records of previous orders.
Personal Pickup and EasyPay are only available in the US at present, though the Apple Store app itself is, with the release of v2.0, available now in China and Canada. It requires iOS 4.2 or above, while EasyPay requires and iPhone 4 or iPhone 4S.
[via TNW]