Apple Store iOS app tipped for self-checkout update this week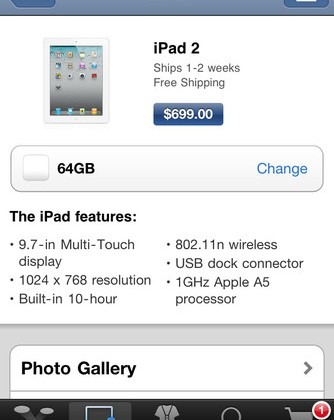 Apple is readying a self-checkout update to its Apple Store iOS app [itunes link], reports suggest, allowing shoppers to pick up and pay for accessories, peripherals and gadget cases in Apple Stores without needing any assistance from staff. The new retail store iOS app will charge purchases to a customer's iTunes account, MacRumors' sources say, while more expensive items such as Mac computers, iPhones and iPods will support pre-payment and require staff assistance to bring them out of the stock room.
The exact system for the new payments process has not been disclosed, though the iOS app is expected to email a receipt for each order in case you get stopped by security on the way out. Currently the app shows local store details, allows you to search through stock and then reserve it, but payment is taken by the existing in-store systems.
According to Heylookitseric, the iOS app update is due on Thursday November 3. The site also suggests that the ship-to-store option which began a trial in San Francisco last week will be expanded to cover all US Apple Stores, though the timeline for its roll-out is unclear.