Apple speaks in post-Nightline aftermath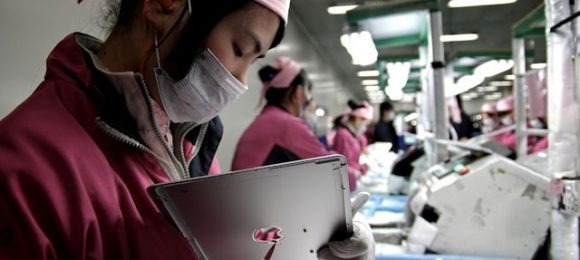 Apple and Foxconn's behind-the-scenes efforts to conclusively end criticisms over labor treatment look unlikely to stop speculation, with a supposed open letter from former workers renewing calls for closer scrutiny. Supply chain staff purportedly injured while using n-hexane to clean iPhone screens have published an open letter to consumers, Tom's Hardware reports, hoping pressure from Apple's target audience will not only secure them compensation but spur a change in working practices. However, Apple has already ceased the use of n-hexane, according to the company's 2011 supplier responsibility report [pdf link].
"We need your help to send a message to Apple before their shareholder meeting on Thursday, Feb. 23rd" the open letter, supposedly penned by  Guo Rui-Qiang and Jia Jing-Chuan, requests. "We want to see a strict corporate social responsibility and reform of the audit system to prevent similar tragedies in the future. He will listen to you as current or potential consumers."
It's unclear to what extent the Fair Labor Association audits will satisfy the ex-workers' demands. The investigations into Foxconn – which Apple is paying for, and which will subsequently look at fellow suppliers Pegatron and Quanta – will result in monthly supplier working condition reports, Apple CEO Tim Cook has promised, though there have been accusations that factories had hidden underage staff, among other rule infractions, when the FLA is on-site.
As for the warts-and-all Nightline visit to Foxconn, all Apple, Foxconn and the Fair Labor Association have taken issue with are some minor calculations and date problems. Apple says one worker's suggestions that she deburrs 6,000 Apple logos on iPads each day actually doubles the amount likely to be handled, ABC reports, with 6,000 instead the figure two daily shifts would be expected to complete. Meanwhile Foxconn commented on pay levels, though a somewhat obscure tax issue rather than making any further statement on its supposed willingness to increase wages if Apple demanded it.
Finally, the FLA moved to counter suggestions that Apple sought membership as a response to original criticisms over factory conditions. The discussions began in April 2007 but stalled in March 2008. We then resumed them in April 2009 and decided to do a small pilot survey so that Apple could get an idea of how our tools might add value to their program" FLA president Auret van Heerden said. "That pilot led to a second activity that I believe contributed to the decision to join the FLA at the end of 2011. I, of course, cannot speak for Apple but I do believe that the decision to join was probably taken some months before (and therefore well before) the New York Times articles."