Apple Social Network Using Proximity People-Matching Tipped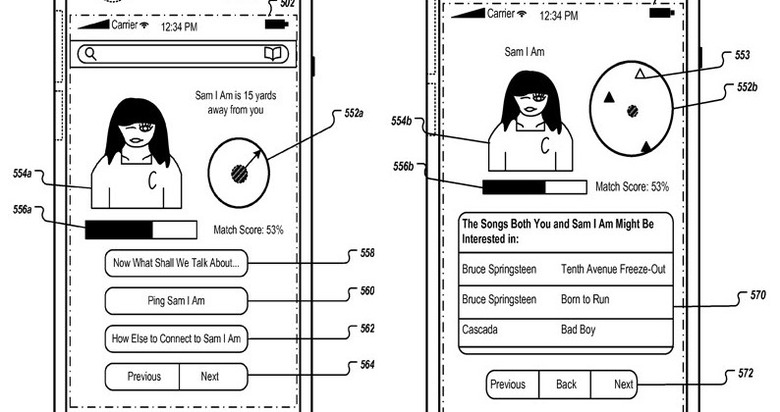 Details of a potential Apple social network system between iOS mobile devices have been uncovered, thanks to a new patent application from the company. "Ad Hoc Networking Based on Content and Location" details a system of proximity-based sharing and communication, where a user's device usage history – whether locations they've been recently, music or video they've downloaded or watched, or pictures they've shared – allows for common interest matching without the time investment a Facebook profile demands.
According to the application, the system wouldn't require that users set up a profile and then search through those profiles of other people. Instead, a "Buddy Finder" system would automatically flag the device up as open to being discovered by nearby people with similar interests, either using point-to-point connections like Bluetooth or NFC, or server-based systems relying on an iPhone reporting in with its GPS location.
What's particularly interesting is the sort of data Apple could use to match potential friends up. Seeing as the smartphone has become the hub of many peoples' lives, there's plenty of information on there to choose from. The patent application suggests that a good match may come about if two people had a shared contact saved to their device, as well as the same city or location stored as a weather forecast list, the same radio station as a preset, similar websites bookmarked or the same game downloaded and recently played. Alternatively, it might be based on common locations visited, overlaps in musical taste, or even if the same person was spotted in photos on both devices.
Hit "Find Friend Now" and any devices in "Buddy Finder" mode would clash databases and see if a good match came through. If you wanted to meet up, directions could be given too. It's not the first time we've seen proximal networking systems – Nokia had a similar idea last year, with its Instant Community app – but they've generally been held back by the limited number of people using the same platform and/or app.
Of course, a shortage of devices isn't generally a problem with the iPhone, and that could give any Apple social networking system a foot in the door. Relations between the company and Facebook are believed to be strained – Apple picked Twitter for baked-in integration with iOS 5, not Facebook – and while the social network is tipped to be readying a dedicated Facebook app for iPad, it's also said to be preparing an App Store rival codenamed Project Spartan. That could potentially use HTML5 apps and cross-platform support to take a big bite out of Apple's control.
[via Patently Apple]