Apple said to be working on Thunderbolt Display successor with integrated GPU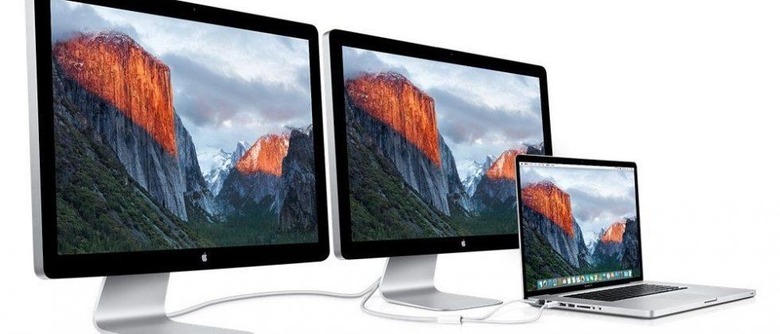 With little notice, Apple revealed it was killing-off its Thunderbolt Display earlier this week, with no announcement of a follow-up external monitor. While the device was five years old, and definitely showed its age next to the thinner, Retina display iMacs that followed it, the news was still disappointing to owners of various MacBook models that prefer to work on a larger screen when at home. However, it seems Apple may not be leaving the external display market altogether.BuzzFeed managing editor John Paczkowski has said that Apple is still working on a next-gen display, with unnamed sources indicating that it will feature its own integrated graphics card.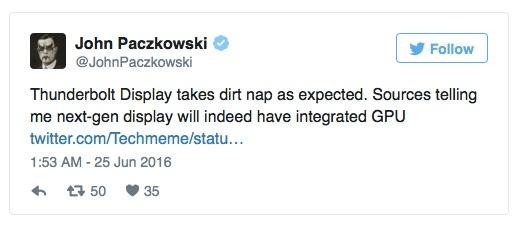 An external monitor with an integrated GPU would basically allow Apple to release a stand-alone 5K Retina display. Like the company's high-end 27-inch iMac model, but just without the actual "computer" portion. It would also mean just about any modern Mac model, including the low-powered 12-inch MacBook, could be used with Retina-quality visuals.
This would be because the monitor's internal graphics card would be handling the processing, rather than the connected Mac's GPU. While the Thunderbolt connector doesn't offer enough bandwidth to transmit Retina-level resolutions to an external display, it should be able to work with an external GPU.
While this situation implies there's really no reason for a hold-up from Apple, there's still the matter of new, redesigned MacBook Pro models expected to debut later this year. The latest rumors peg these laptops as featuring USB-C ports only, meaning Apple would need to ensure they're capable of Thunderbolt 3 speeds.
This all certainly seems possible, but having to wait on for the new MacBook Pros to be completed is a likely reason for waiting to announce a new external display. After all, it makes perfect sense to debut those new products alongside each other.
SOURCE John Paczkowski/Twitter