Apple rolls out iOS 8.1.3, requires less open memory for updates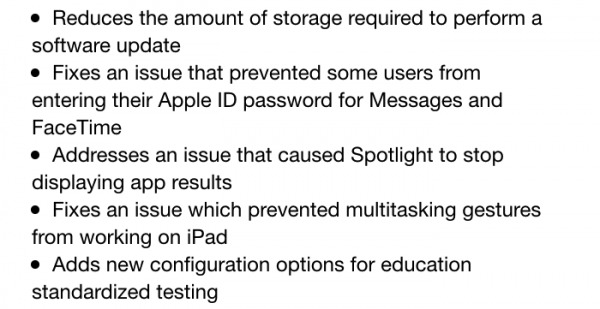 Apple has just released iOS 8.1.3, their third iteration on the release of iOS 8. After a series of errors surrounding iOS 8 upgrades, this one fixes some minor problems. We'll now need less space to update an iPhone or iPad device over the air, and iOS 8.1.3 fixes an issue where Spotlight failed to display app results. Thankfully, Apple also fixed their frustrating multitasking gestures bug on iPad (five-finger pinch to close, among others). The update is rolling out now.
This latest iOS update also fixes a bug where users were prevented from entering their Apple ID for use with Messages or FaceTime. In addition to the above changes, Apple also made some EDU changes to better help educators use iOS devices for standardized testing.
What iOS 8.1.3 doesn't seem to do is break connectivity, or otherwise render devices hamstrung. Previous updated had such issues, so we're happy to not have that to write about this time around.
This latest update isn't the big fish we've been hunting down, though. With iOS 8.2, we're expecting Apple Watch control, and possibly even some other features we've not yet heard about. Apple is still rumored to roll Beats into the mix at some point, and it's pretty clear they're working on streaming agreements with record labels, so a streaming iTunes option may be coming soon, too.
Again, the update is rolling out now, so be on the lookout!