Apple prepping Yerba Buena Center for iPhone 5 reveal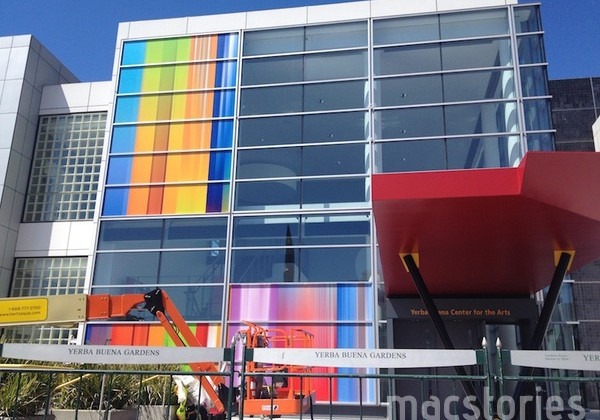 The fact that Apple is holding a media event on September 12 has been all over the place lately, and as we close in on the date, anticipation is beginning to build. Here's something that won't help at all with that anticipation: Apple has started prepping the Yerba Buena Center ahead of the event, with 9to5Mac and Macstories both posting pictures of the exterior and interior of the building. Apple clearly wants to make its presence known on September 12, but given the Apple events of years past, we really wouldn't expect any less.
Preparations still seem to be ongoing, but the images show that they're certainly underway and progressing nicely. We can see workers decorating the outside of the building with colorful banners, as Apple is wont to do for its press events and major reveals. On the inside, we can plainly see a wall that has been plastered with a huge Apple logo. There isn't any doubt about it – Apple has something huge planned, and thanks to a number of leaks (and Apple's own invitations) we have a pretty good idea of what that is.
Apple is widely expected to announce the iPhone 5 next week, and indeed, all signs point to such a reveal. There were also some rumors that claimed Apple would reveal a brand new iteration of the iPad – the iPad Mini – but lately those rumors have died down in favor of new whispers which claim that the iPad Mini will be revealed at a later date. Earlier today, we caught word of an incoming iPod reveal at the event, but aside from the iPhone 5, it's still difficult to say what Apple has planned.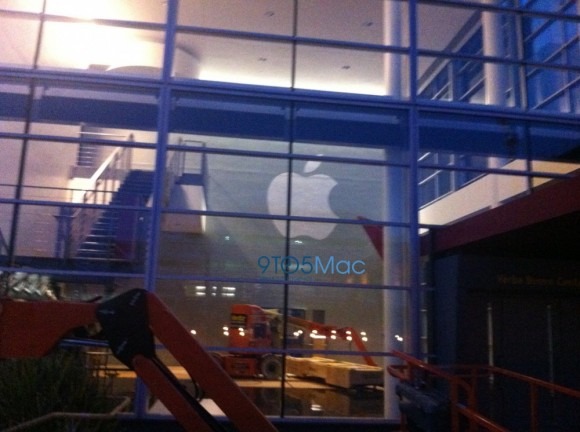 In any case, it's going to be pretty big. We're going to be there liveblogging the whole thing, so be sure to follow this link and watch everything unfold starting at 10 AM PST on September 12. Additionally, to tide yourself over until the big event actually arrives, be sure to check out our Apple portal for all of the latest rumors, speculation, and news. Stay tuned folks, because the next few days are likely to be quite the wild ride.