Apple Pay now available in Switzerland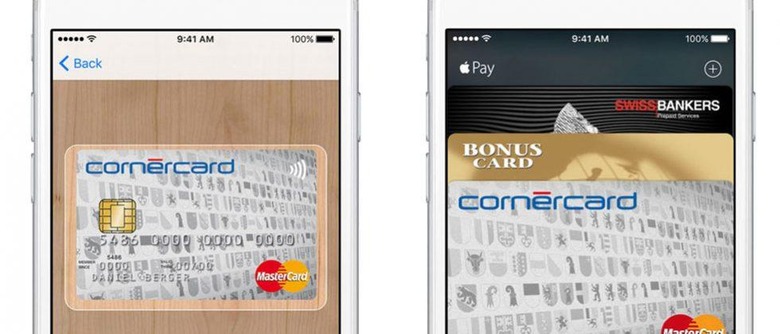 Apple Pay is the mobile payment service that Apple is pushing in an effort to get folks to buy things in stores using iPhone and Apple Watches. Apple Pay is currently available in several countries and the latest location for Apple users to get support for Apple Pay is Switzerland. Now the Swiss can pay for items in stores or via apps without having to dig out there credit cards or wallets to pay.
Apple says that Apple Pay will work with most of the credit cards that you use every day and is supported on the iPhone, iPad, and Apple Watch. Payments are secure and confidential. To pay via the iPhone with Apple Pay the user can simply use Touch ID to scan their fingerprint and payment is made. Card numbers aren't stored on the device and when you shop the card numbers aren't sent to the merchants. If your device is lost or stolen, using Find My iPhone and putting the device into Lost mode will disable Apple Pay.
That means less chance of your card number being stolen if your device is lost or if the seller has a security breach. Apple Pay for the web has also gone official meaning that users can pay for things via Safari using their Mac as well. Apple Pay of the web launched in mid-June and is aiming directly at PayPal. The catch is that Apple Pay for the Web works only with Safari.
Prior to the rollout of Apple Pay in Switzerland, the service landed in Singapore for American Express cardholders. In April of this year, Apple Pay gained support for the Barclays and Barclaycard users in the UK. It's not clear if only specific cards are supported in Switzerland; Apple only says you can use most of the cards you use every day.