Apple patents bezel-less iPhone tech to put Touch ID in display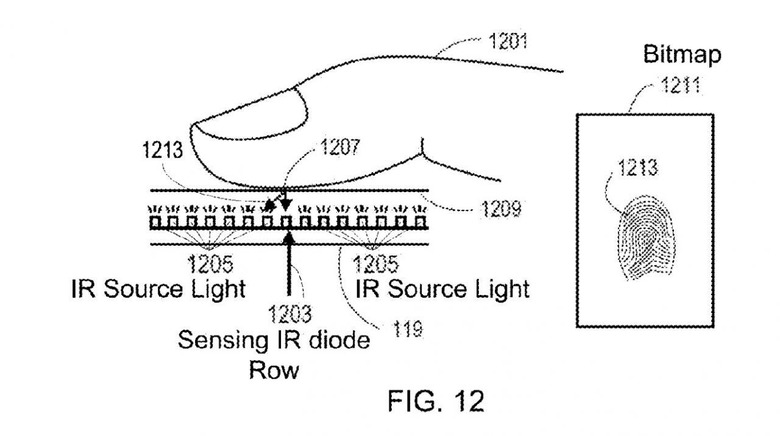 There's no shortage of rumors about the next iPhone, but one of the more compelling rumors we've heard involves the iPhone 8 – if that's what it'll be called – sporting an edge-to-edge display. In order to accomplish this, Apple would need to remove a number of components from the face of the device – namely, the fingerprint scanner and the light sensor. Those are two fairly crucial components to the operation of the iPhone, but if a freshly awarded Apple patent ever sees the light of day, they may no longer be necessary.
As uncovered by by Apple Insider, this new patent takes the technology necessary for fingerprint reading and light detection and implements it within the display itself. This is done by including IR emitting LEDs alongside the typical RGB LEDs that provide the visuals you see on-screen.
Those IR LEDs serve a rather important purpose, because when combined with RGB LEDs, they create subpixel displays that can be calibrated to perform a lot of different tasks. Apple calls these subpixel arrangements "interactive pixels," and mentions in the description of its patent that they can be used to determine ambient light (prompting the CPU to adjust screen brightness). Therefore, Apple can eliminate the need for a light sensor on the face of the iPhone, giving it more space to expand the display itself.
If Apple is going to make an iPhone with an edge-to-edge display, however, it also needs to get rid of the home button and the capacitive touch array that's built into it. With this patent, Apple envisions a future where that array isn't needed to scan fingerprints – instead, interactive pixels can be used. The process for this is kind of complicated, but very cool.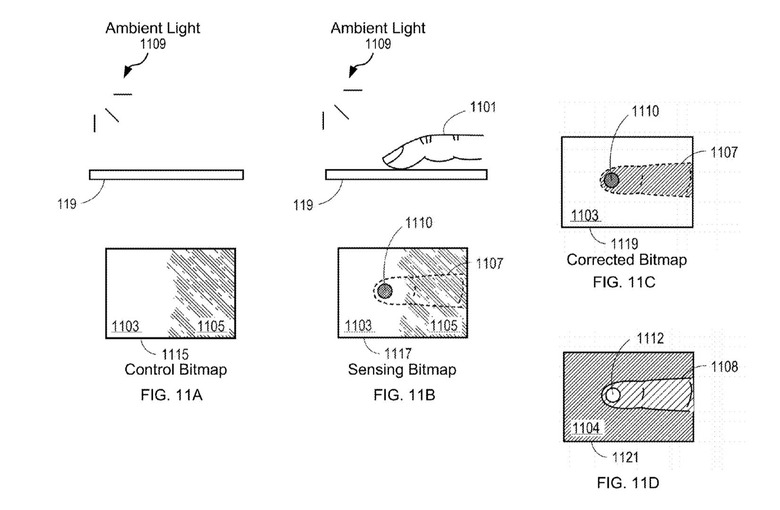 With interactive pixels measuring the ambient light, your phone's display will be able to tell when something like your finger comes within scanning range. Once you press your finger to the display, the interactive pixels determine its location and create a bitmap that plots everything out. By measuring the intensity of the light, that bitmap can determine something as fine as the grooves in your fingerprint, therefore allowing you to keep your phone as secure as when you were using TouchID, only without the need for a dedicated scanner.
It's worth noting that LuxVue was working on this IP when Apple purchased the company back in 2014, so this kind of technology has been in the works for quite some time already. While it may still be too early to expect to see it in something like 2017's iPhone, this patent could potentially be the catalyst for an iPhone with an edge-to-edge display. We'll have to wait on Apple to see how this technology is ultimately implemented, but for now, click the source link below to view this intriguing patent filing.
SOURCE: USPTO