Apple Media Pad won't launch until 2010 says analyst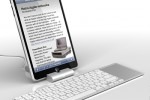 Apple's rumored Media Pad touchscreen tablet is coming, but not as fast as many are expecting.  That's the latest opinion from perennial Apple commentator, Piper Jaffray analyst Gene Munster.  Munster has published a note today stating his opinion that development a touchscreen tablet is underway, but that since it'll require a third-generation of mobile OS X "more robust" than that on the iPhone, it won't hit the market until 2010.
"We expect the development of such an OS to be underway currently, but its complexity, along with our conversations with a key company in the mobile space, leads us to believe it will not launch until CY10" Gene Munster, analyst, Piper Jaffray
Apple execs have been vocal regarding their disdain for the netbook segment, with Tim Cook notably describing the budget ultraportables as "junky hardware" with "cramped keyboards" and "bad software".  Nonetheless, he told investors and analysts that the company has "some interesting ideas" on how to deliver "an innovative product that really makes a contribution."
That innovation is expected to be a roughly 10-inch capacitive touchscreen device, similar in design to a larger iPod touch.  This would focus on internet access, with WiFi and VoIP functionality.