Apple Media Pad concept certainly looks hot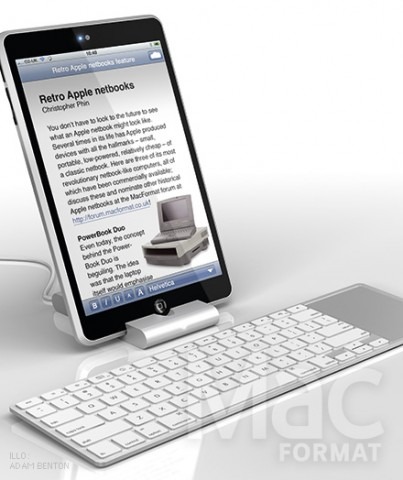 Nothing like a new Apple device rumor to get the concept artists scurrying to their graphics tablets, and there's something particularly alluring about the prospect of an Apple Media Pad.  MacFormat's illustrator Adam Benton came up with these concept shots, envisioning the Media Pad as an overgrown iPod touch.
It's enough to prompt the magazine's futurologists into making some predictions, anyway.  They reckon the Media Pad will have integrated HSUPA for constant contact with Apple's servers, storing all documents and media in the 'cloud' and allowing the device itself to make do with a smaller SSD.  The dock would have USB and FireWire, plus Mini DisplayPort, and Bluetooth would be used for peripherals like headsets and keyboards.  OS would be the same as found on the iPhone and iPod touch, scaled up to suit a larger display.
Of course, all that is speculation.  What's believed so far – according to BusinessWeek – is that the Apple Media Pad is a roughly Kindle-sized device dominated by a large touchscreen, and having WiFi and VoIP functionality.