Apple Magic Mouse gets inevitable teardown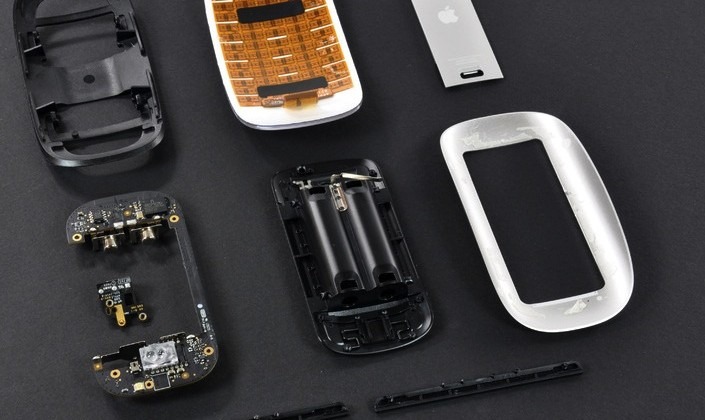 Apple's Magic Mouse is impressing us on the desktop, but what sort of evil spirits might be lurking inside?  iFixit bravely donned protective eyewear and grabbed the nearest set of screwdrivers in order to strip the multitouch mouse down to its bare boards, in their latest Apple teardown.
There's actually more glue than screws involved in holding the Magic Mouse together, but since there aren't really any parts inside that Apple expect users to fiddle with, they probably can't be criticized too much for that.  What's most noticeable is the capacitive sensor array, a large orange panel that covers the inside of the top surface from the Magic Mouse's Apple logo upwards.
We're in two minds about Apple's choice of standard AA batteries; while we like being able to switch them out easily, or use our own rechargeables, a high-capacity Li-Ion pack would've been a nice option.  You could even have a USB charging cord that could turn the Magic Mouse into a wired peripheral, just in case of mid-work rundowns.