Apple MacBook Air specs leak; white MacBook facing the chop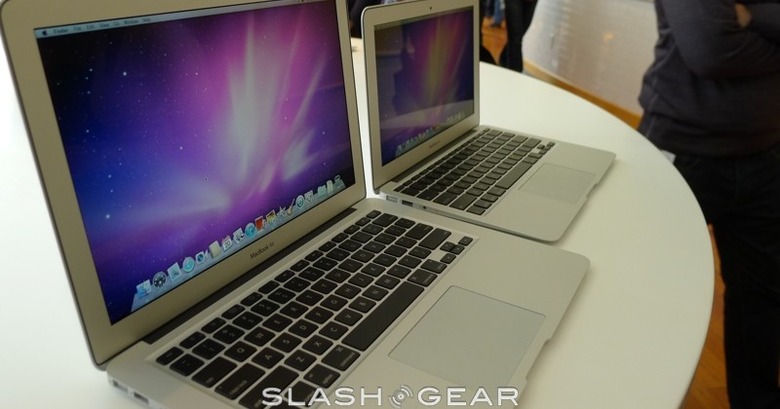 Details of Apple's much-rumored MacBook Air refresh, expected to be officially revealed later today, have leaked, giving us a sneak preview of what's happening with the slimline ultraportable. The 11.6-inch MacBook Air will kick off with a 1.6GHz Intel Sandy Bridge processor, so 9 to 5 Mac's source tells them, paired with 2GB of RAM and a 64GB SSD. The more expensive standard configuration will stick with the same CPU but double the RAM and storage to 4GB and 128GB respectively.
The 13.3-inch MacBook Air will start at a 1.7GHz Sandy Bridge processor, paired with 4GB of RAM and 128GB of SSD storage; its pricier counterpart will boost the latter to 256GB. All four will include Thunderbolt ports and "a design with little to no changes from the current models."
Meanwhile, there will be new custom configurations on offer, including a 1.8GHz option on the 11.6-inch MBA, a 4GB RAM upgrade for the basic version, and up to 256GB of SSD storage. The 13.3-inch built-to-order MBA will be offered with a 1.8GHz processor but the same RAM and drive as the high-end standard configuration.
Indications from Apple's internal shipment forecast suggest that the company is preparing to replace the white MacBook with the entry-level MacBook Air; according to one source, speaking to AppleInsider, shipment expectations for the MacBook drop off in early August. Pricing for the new Air models is unconfirmed, but we'd expect Apple to stick to the same figures as present.
Apple announced record quarterly financial results yesterday, as well as confirming that OS X Lion would hit the Mac App Store today.
[Thanks Caleb!]