Apple Mac App Store Reminder Pushes For Dev Submissions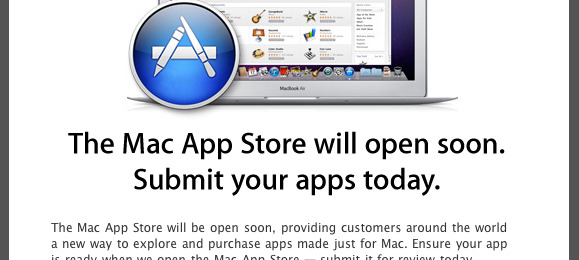 Apple is sending developers reminder emails about the upcoming Mac App Store, 9to5Mac reports, encouraging them to submit titles now for review and potential inclusion in the upcoming OS X software download system. Announced at Apple's Back To The Mac event in mid-October, the Mac App Store will push iOS titles to Apple's desktop range of computers, bridging the divide between the mobile OS and OS X.
At announcement, Apple CEO Steve Jobs confirmed that the Mac App Store would launch "within the next 90 days." It's unclear whether this reminder is an indication that the download service is about to launch more imminently than perhaps expected, that developer take-up has been less than predicted and Apple is needing to encourage coders to take part, or is a normal part of the process.