Apple is playing patent royalty hardball, and Qualcomm is furious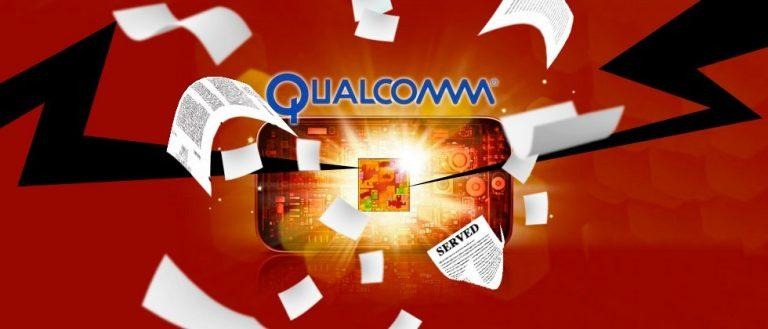 The patent fight between Apple and Qualcomm is getting uglier, with the chip-maker now outraged that its legal foe – and customer – is now withholding cash while the two clash in court. Tensions were cranked up to eleven back in January, when Apple accused Qualcomm of forcing unfair licensing fees onto it. Suing the company, it accused it of having "unfairly insisted on charging royalties for technologies they have nothing to do with."
"Despite being just one of over a dozen companies who contributed to basic cellular standards," Apple's claims continued, "Qualcomm insists on charging Apple at least five times more in payments than all the other cellular patent licensors we have agreements with combined." According to the allegations, there's more to it than just profits in mind, too. Apple alleges that Qualcomm withheld $1bn in payments in retaliation for the Cupertino company cooperating with law enforcement in an investigation into the chip manufacturer that ended up costing it $835m in fines.
Qualcomm fired back a few months later, arguing that in fact Apple was trying to misrepresent its business and the performance of Qualcomm's LTE modems. Tensions between the two firms have escalated, and now Qualcomm says that Apple is interfering with its patent licensing process with other licensees.
In a statement today, the firm said it had been notified that Apple would be "withholding payments to its contract manufacturers for the royalties those contract manufacturers owe under their licenses with Qualcomm for sales during the quarter ended March 31, 2017." The policy will, Apple informed Qualcomm, continue until the legal dispute has been resolved. Unsurprisingly, Qualcomm isn't happy.
"While Apple has acknowledged that payment is owed for the use of Qualcomm's valuable intellectual property, it nevertheless continues to interfere with our contracts," Don Rosenberg, executive vice president and general counsel of Qualcomm, said today. "Apple has now unilaterally declared the contract terms unacceptable; the same terms that have applied to iPhones and cellular-enabled iPads for a decade."
Though Qualcomm says it plans to fight back, it's nonetheless warning investors that this newest phase of the battle will have a potentially huge impact on the next financial quarter. Before now, it had estimated revenues of between $5.3bn and $6.1bn for Q3 of the 2017 financial year, which would work out somewhere in the range of a 12-percent decrease to a 1-percent increase, year-on-year. With royalty revenues from Apple's contract manufacturers excluded, though, the outlook is a lot more grim.
Indeed, Qualcomm is predicting a $4.8bn to $5.6bn range, which means a decrease of between 7- and 21-percent year-on-year. Although some contract manufacturers may make some payments, it's expected to be "insignificant" compared to what Qualcomm was expecting. The situation might be even more dire, in fact; the company warns that it hasn't included the impact of possible "future asset impairments or for pending legal matters, other than future legal amounts that are probable and estimable."