Apple Ireland political visit applauds Euro expansion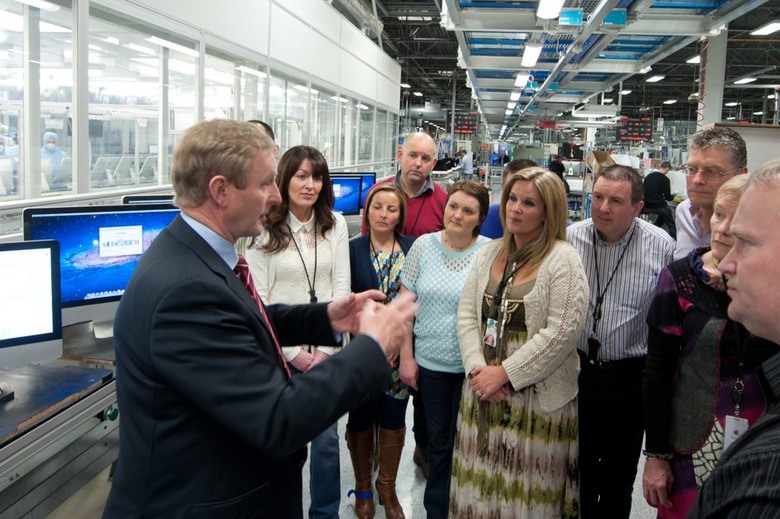 This week Apple's plant in Hollyhill in Cork, Ireland, has received a rare visit from the country's Taoiseach Mr. Enda Kenny. This visit represents a bid of confidence in the workers in the area to use Apple to bolster their economy both in the immediate area and across Europe. Apple this month announced that they'd be adding another 500 roles across Europe to the 2,800 people working at the Hollyhill facility, Apple's very first plant opened outside the USA several years ago.
The Hollyhill plant is currently the assembly point for the MacBook Pro laptop line, and was responsible in the past for Apple's original iconic iMac machine. We've had quite a bit of rumors swirling around the MacBook Pro 2012 line, this visit to Hollyhill sure to add to the anticipatory fire for new Apple notebook hardware through the weekend. Have a peek at our [MacBook Pro portal] to see the timeline of events as they've blown up over the past month.
Above: Irish Prime Minister Enda Kenny visits with Apple employees in Cork, Ireland on Friday, April 27, 2012. Apple recently announced plans to expand its presence in Cork, adding over 500 new jobs to support the company's growing business across Europe. The title Taoiseach, for those of you wondering, means effectively head of the government. This seat is roughly the same as Prime Minister or President – in this case of Ireland.
The Apple plant in Hollyhill is responsible also for Apple's distribution, back-office, and supply chain operations. Additional support from Apple as well as cooperation from the government via check-ins like the one this week by Enda Kenny are sure to expand Apple's role in Europe into the future. With 500 new jobs coming up in what Apple says will be the next 18 months, we can expect a much more powerful presence for Apple across the UK and greater Europe in the next couple of years without a doubt.