iPhone XS And iPhone XS Max Review: Here Comes The Future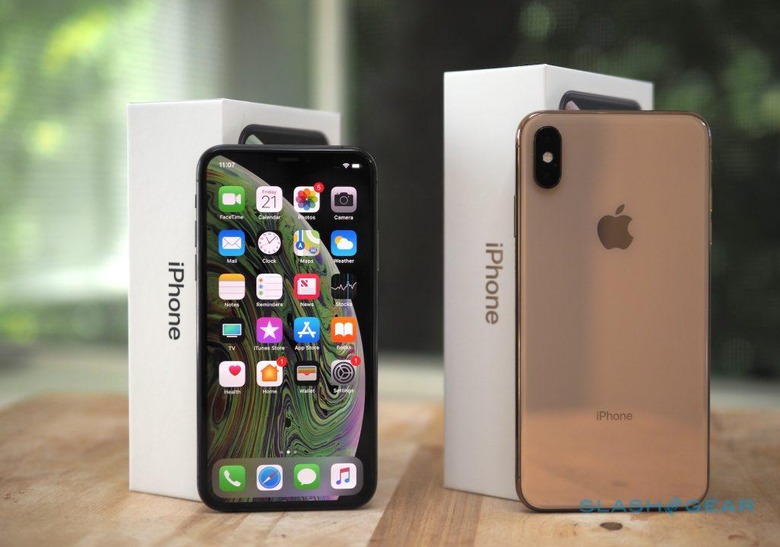 EDITORS' RATING: 8/10
If 2017 was the year Apple hit reset on the iPhone then, in 2018, the iPhone XS and the iPhone XS Max are its masterplan writ large. In the case of the iPhone XS Max, that's quite literally very large indeed. Doubling down on its screen-first design, these new smartphones promise formidable power and cleverer photography in a beautifully designed package. You pay a significant premium for all that, though, raising the very real question of whether Apple is delivering enough in the premium category it created.
A familiar face
Apple upended its traditional iPhone design language with the iPhone X but, as is so often the case in an "S" year, the iPhone XS and iPhone XS Max don't stray far from that example. Indeed, if you're an iPhone XS buyer who wants everybody to know you're in possession of Apple's newest smartphone you should probably get the gold one. The third color – alongside silver and space gray – is the most noticeable differentiator.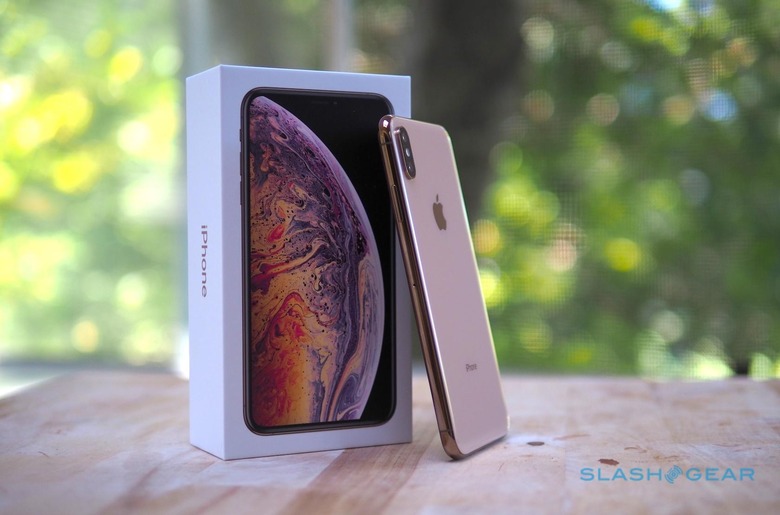 It's not to say there haven't been changes, only that they require more attention to spot. IP68 water and dust resistance is most welcome, as anybody who has watched with as much patience as they can muster as their soaked smartphone sits inside a bowl of rice. In fact, Apple actually exceeds that rating: the phone can handle a dunking in water up to two meters in depth, not just one, for up to 30 minutes.
Despite the improved sealing, Apple has reworked the speakers, too, making the iPhone XS and iPhone XS Max louder though without sacrificing clarity in the process. With glass front and back, and a shiny metal band separating them, I can't say I had high hopes for these phones' durability – especially since the iPhone X proved prone to picking up scratches. Apple claims it has used a new, tougher formulation of Corning's Gorilla Glass, so my fingers are crossed. A case would still probably be a wise investment, though.
The display decision
As I suspect was true with many others, I switched to the Plus-sized iPhone back when that decision meant you got two cameras instead of one. It was a choice I stuck with up until the iPhone 7 Plus, but the arrival of the iPhone X meant to could go back to a device more suited to the size of my hands and yet not sacrifice the optical zoom.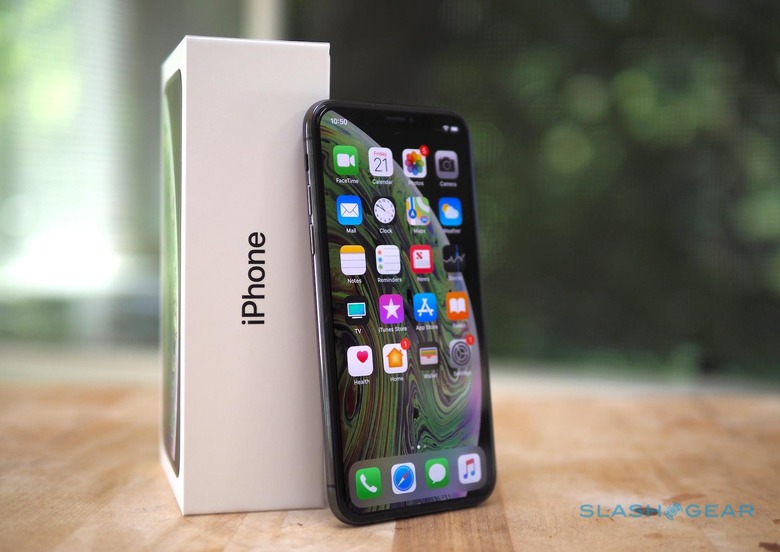 For twelve months, in fact, the iPhone X form factor has felt close to the ideal balance for me. Now, though, I'm questioning that decision. The iPhone XS Max is nearer in size to the iPhone 8 Plus, but accommodates a significantly larger screen than a Plus phone ever did. Now that I've had a taste of that, and with the enhancements in iOS 12, I'm not sure I could go back.
I have to credit the significant reduction in bezel thickness for a large part of it. Like the iPhone XS, the iPhone XS Max's screen doesn't quite reach the very edges of the phone, but proportionally they look even smaller simply because that OLED panel is just so huge. 6.5-inches is a record for an iPhone, and getting close to what the iPad mini 4 offers.
It's not to say the iPhone XS' screen is disappointing, far from it. In both cases Apple's OLED is color-rich and bright, easily viewed outdoors even in direct sunlight, and it leaves videos and games looking spectacular. Whichever size you go for, you get 458 pixels per inch resolution. Dolby Vision and HDR10 support is the icing on the cake, though it's inevitably going to be more subtle than either display technology on a regular-sized TV.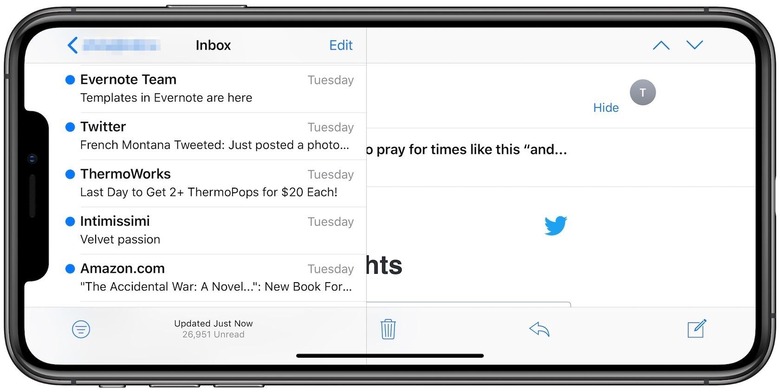 As is often the case, the hardware is ready before the software has caught up. Apple has added a few new UI elements to take advantage of the extra space in landscape orientation – there's a sidebar in apps like Mail, for example, while Safari puts iPad-style tabs under the address bar – but for the most part this is iOS as you know it, only bigger.
The home screen has the same number of app icons, and despite the larger space either side of the notch you still have to pull down Control Center to see the battery percentage. For most apps, it's business as usual just at a higher degree of magnification, and that feels like a wasted opportunity to me. More annoying, some apps clearly aren't quite ready for 6.5-inches of iOS and suffer from minor layout glitches. I'd imagine that will be fixed in relatively short order, though.
A new turn of speed
The heart of the iPhone XS and iPhone XS Max is the same: the new Apple A12 Bionic processor. Compared to the A11 Bionic in the iPhone X, Apple says there's a 15-percent improvement in CPU performance and a 50-percent improvement in GPU performance. Sure enough, there's a slight, but perceivable, change in how rapidly apps load up when you tap their icons, and how rapidly iOS 12 allows you to swipe between them and keep on working.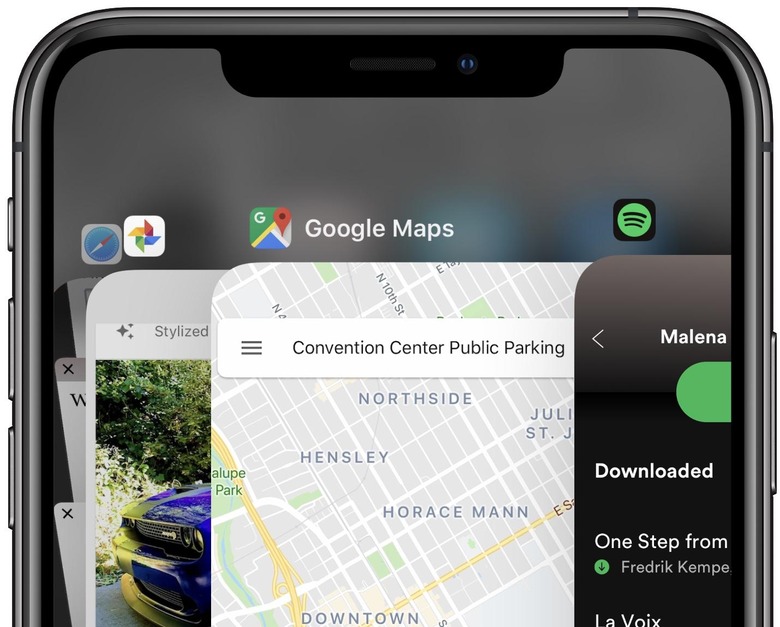 It's not just how quickly apps load and run, though. Face ID is swifter now, and it feels like I don't have to tilt the phone – or my neck – to better line myself up as much. If you've ever tried to unlock the iPhone X while lying in bed, and had to rear back so as to properly frame yourself for the TrueDepth camera, you'll be pleased to know those contortions are less necessary now.
The initial concerns about Face ID – and missing the Touch ID sensor – seem even less problematic twelve months in. Being able to have simply looking at your phone unlock passwords, website logins, and secured app features has become second-nature; I far prefer it to using a fingerprint. I also don't have problems with it recognizing me with or without glasses, or when I'm wearing sunglasses, though your frames and lenses may mean you don't experience quite such smooth sailing.
Arguably the most promising change, though, is the A12 Bionic's new Neural Engine. Apple's comparisons between it and the A11's version are suitably eye-watering: 5 trillion operations per second, versus 600 billion. However it's really too early to see the impact of that.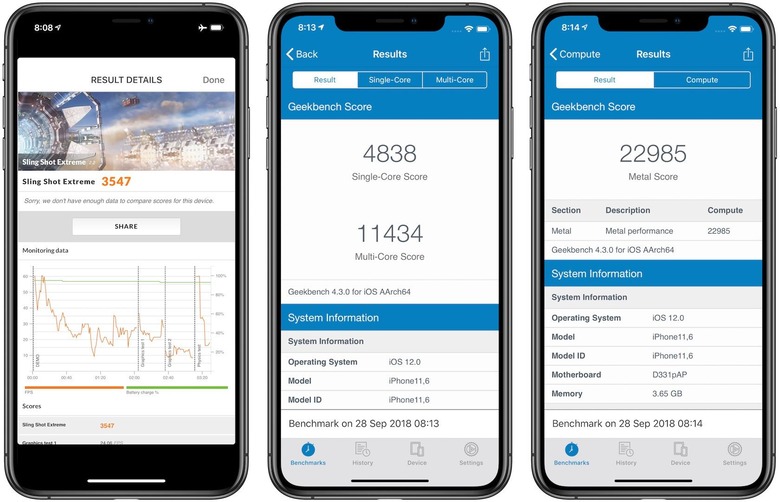 I suspect it won't take long, however. One of the biggest differentiators in machine learning and neural networks today is whether you do it locally – as Apple does – or in the cloud – as Google and others tend to – and what that means for user data and latency. Apple's argument has always been that relying on smarter devices to do their own AI processing pays dividends when it comes to speed and privacy, and the new A12 Bionic Neural Engine now means there'll be less of a performance compromise in the process.
Right now, then, there's not much that actually puts Apple's new silicon to the test. With the arrival of ARKit 2, though, and a growth in computational photography and more, that's going to change in short order.
As for wireless speed, we weren't expecting 5G and sure enough it wasn't included. Even with fifth-generation networks due to come online later this year, limited coverage and bulky first-generation modems mean it's likely to be a year or two before Apple decides they're iPhone-ready.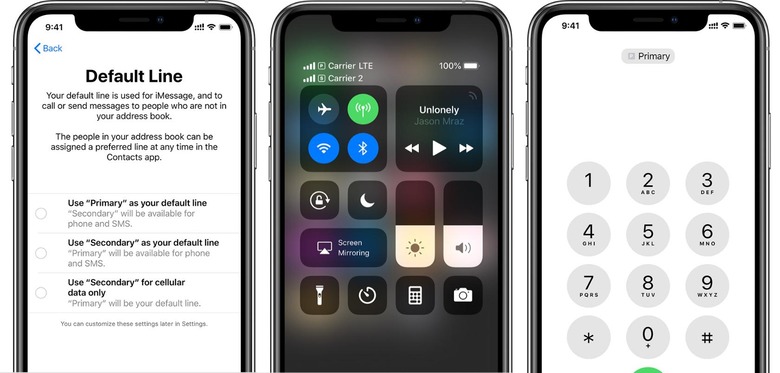 Instead you get Gigabit LTE, which with the right carrier could still make a significant difference. Coverage of the faster-than-LTE service is already significant, and there's a fair chance that the download and upload speeds you see on your iPhone could outpace what your home internet connection offers. While you're home, meanwhile, there's 802.11ac WiFi with 2x2 MIMO, and Apple has added Bluetooth 5.0 support, too.
The other big wireless change for 2018 is dual-SIM support, though only China will get the ability to put two physical SIM-cards into a single handset. Everywhere else gets a combination of a physical SIM and a virtual eSIM, as Apple has used on cellular iPads in recent years. Again, it's carrier dependent (and eSIM functionality won't actually be enabled until later in the year) but it will mean the ability to switch between two different lines for calls, messaging, and data, or some combination of the three.
Depending on how your carrier of choice handles it, you might be able to activate your normal service on eSIM only. That would leave the physical SIM slot for a local card you pick up when traveling, perhaps, or the card from your work phone.
Smarter cameras
The iPhone XS and iPhone XS Max's bulging dual-camera array may look the same as that of the iPhone X, but there are changes inside. The 12-megapixel telephoto lens – responsible for the 2x zoom – is the same, but the primary sensor is 30-percent larger and now has 1.4 micron pixels rather than the 1.22 micron of before. They're also a little deeper, and Apple has doubled the pixels used in its phase-detection autofocus.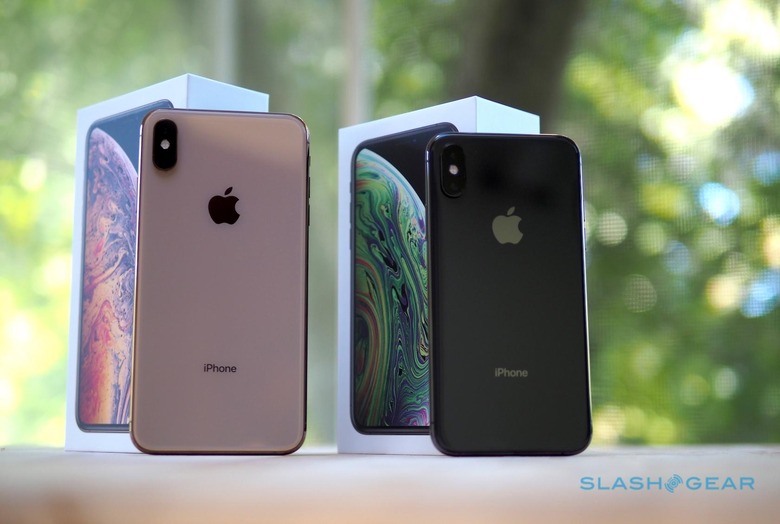 Bigger, deeper pixels mean more light being captured. Apple then pairs that with Smart HDR, which effectively takes multiple shots – both underexposed and overexposed – whenever you hit the shutter button. They're all fed into the A12 Bionic, which combines them with the idea that murkier areas will be lighter and blown-out sections will be tempered. Any more detail present in the in-between images is picked out and woven through, while taking things like hand-shake or the presence of faces into account.
Apple enables it by default, though you can optionally have an HDR toggle in the camera app to turn it off manually if you prefer. There's also the choice of having a regular, non-Smart HDR shot saved too. Apple tells me it expects its processing to be preferred by most users, though there have been a few times I've been glad to have the original image captured, too.
Smart HDR can be aggressive with its processing, almost like it wants to wow you with just how much detail it can pull out of every scene. Sometimes that's exactly what you want: punchy colors and lots of contrast in daytime images, or twinkling lights amid layered velvet blackness at night, and they sure do look pretty on the iPhone XS Max's rich OLED panel. Other times, though, the processing can be little too heavy-handed, leaving shots feeling overwrought and occasionally with weird color tones or fringing in low-light. I don't doubt that the iPhone XS is grabbing more information in every frame, but at times I wished it was a little more subtle in how it used that for the final image.
The other big change is to Portrait mode. As before, it combines the two front or rear cameras for a faux-bokeh effect on the background. Now, though, as well as switching between different lighting types, you can also adjust the degree of blur. By default you get a simulation of an f/4.5 lens, but you can swipe that all the way to f/1.4 for maximum blur, or to f/16 for far less.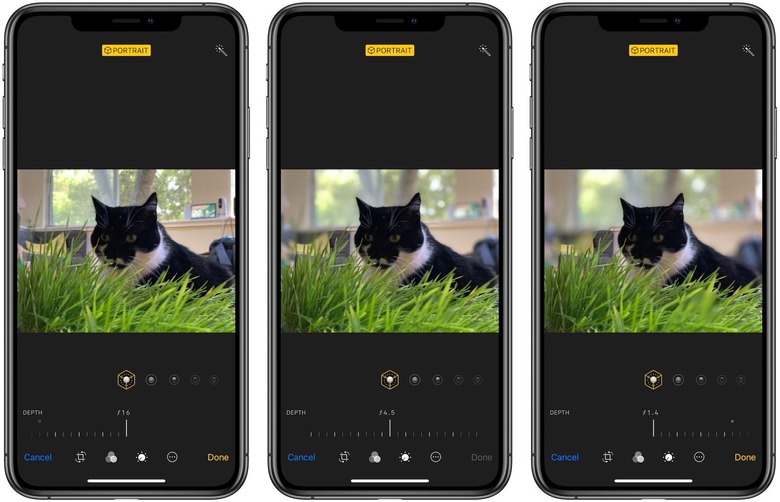 It's neat – though Apple isn't the first to offer post-capture adjustment – and in the pipeline is the ability to adjust the level of bokeh even before you hit the shutter button. Third-party apps like Focos still allow for more in-depth changes, though, like enhancing the twinkling backdrop glints and even changing their shape. Portrait mode itself promises better results overall, particularly in how accurate it is to pick out the edges of the subject and keep them crisp while still adjusting the background.
I'd agree it's better then the iPhone X, and even more so than the iPhone 8 Plus, though it's still not infallible. Fine hairs still present a significant difficulty. My cat – who as I've mentioned in previous reviews is the most beautiful creature in all of history, and is often the test subject for any camera I review – sometimes loses detail around her whiskers. When I deign to take photos of humans, hair and glasses can be similarly troublesome. Sometimes, being able to tone the bokeh right down in the new editing feature can be enough to salvage a Portrait shot with poorly delineated edges, mind.
Conservative battery claims
Apple really doesn't like to talk about what size batteries it puts in its phones. What it prefers to highlight is how much longer they last versus their predecessors: in the case of the iPhone XS, that's "up to 30 minutes longer than iPhone X." For the iPhone XS Max, you're looking at "up to 1.5 hours longer," meanwhile.
I've spent most of my time with the iPhone XS Max, and found that Apple's estimates of longer battery life held up in practice, though not quite by a full 90 minutes. Typically, I'd find the iPhone X would be gasping for a top-up by mid- to late-evening. In contrast, the iPhone X Max made it to 11pm with a few percent left. That's with what I'd describe as fairly heavy use: lots of messaging, email, camera use, Slack-style IMs, Google Maps, and other apps.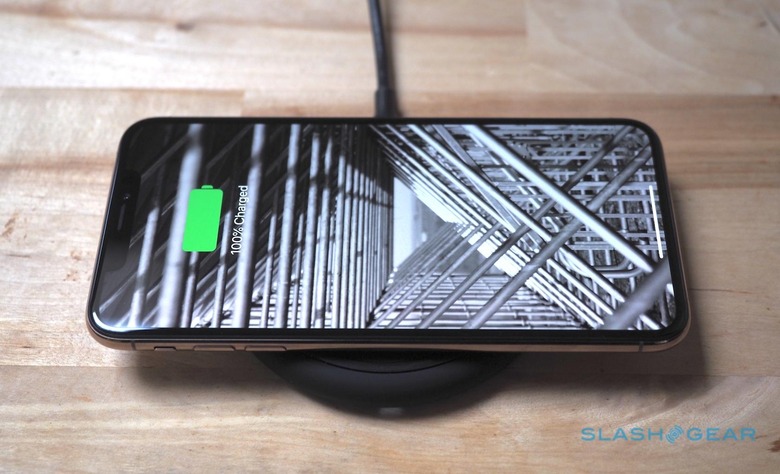 If wireless charging is more your scene, the iPhone XS and iPhone XS Max still support the Qi standard. Apple has tweaked the wireless charging coils inside each phone, though, making them less finicky about how you place them down on a charging pad or stand. You still have to line things up, but I had fewer of the frustrating "I put it on the pad, but not quite right, and so all that time it wasn't charging even though I thought it was" moments that I did with the iPhone X. Sadly wireless charging still tops out at 7.5W, despite other phones supporting up to double that.
Apple, unrepentant
If you'd been hoping Apple's 2018 iPhones would demonstrate any sort of corporate regret about things like ditching the headphone jack, you're sorely mistaken. Indeed, not only do you still not get the 3.5mm socket, you also no longer get the Lightning to 3.5mm adapter in the box. Apple does, at least, give you a set of wired Lightning EarPods, though I was pleased to see that my AirPods automatically paired to the new iPhone XS Max as part of the transfer process from my old iPhone X.
Skipping a $9 headphone jack adapter is one thing. Apple's refusal to switch the USB-A to Lightning cable and 5W power adapter in the box to a USB-C version and higher wattage seems positively perverse, when you consider the Mac team is going all-in on USB Type-C and fast charging. The salt in the wound is that Apple boasts of up to a 50-percent recharge in 30 minutes... but only if you buy a 30W charger.
The iPhone XR question
As I've written before, this is probably the most confusing iPhone line-up we've seen in the smartphone's ten decade history. The iPhone XR, which won't go on sale until October, is the entry-level handset of the new trio and starts from $250 less than the iPhone XS. Despite that, though, it has a bigger display at 6.1-inches.
In part that's because the iPhone XR uses a cheaper LCD panel, with slightly larger bezels. It also gets a single camera on the rear, sacrificing the 2x optical zoom. Apple says it has recreated the key Portrait mode functionality in software, though we're yet to see how well that actually works in practice.
What stands out is the fact that you still get the A12 Bionic processor. You still get Face ID, and the overall X-family aesthetic. You also get to choose from more colors, including the sort of bright finishes we've not really seen since the ill-fated iPhone 5c. Having only spent a brief amount of time with the iPhone XR after its announcement it's hard to say quite how it compares to the iPhone XS and iPhone XS Max, but the savvy shopper would probably wait to find that out before opening their purse or wallet.
The iPhone XS Verdict
Despite just preaching restraint, I can't really criticize you for wanting to just pick up the iPhone XS or iPhone XS Max today rather than waiting. Apple's new flagships look and feel great; their cameras are reliably excellent; and they have the performance and screen quality you'd hope for. That doesn't, though, make them the right smartphones for everybody.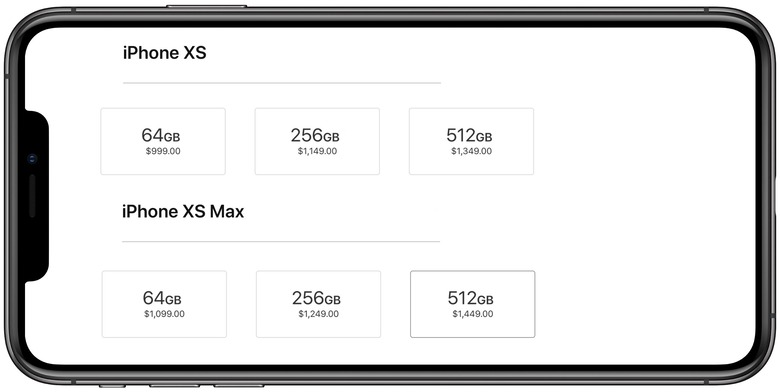 To say they're expensive is an understatement. Like the iPhone X, the iPhone XS starts out at $999. You pay $100 more if you want the bigger display of the iPhone XS Max. 256 GB of storage will cost you $1,149 for the XS or $1,249 for the XS Max. The new 512 GB option – which seems like overkill for all but the most ambitious of users – is a heady $1,349 for the XS or $1,449 for the XS Max.
At that point you're spending more than the cost of a new MacBook Pro on your smartphone, and while there's certainly an argument to be made that the iPhone XS Max is a computer in its own right, that still seems extravagant to the point of ridiculous. Unless you're an iPhone X owner with such large hands that only the iPhone XS Max will save you from crippling finger palsy, I really can't argue against the reality that a free update to iOS 12 is all your existing handset needs to suffice for another successful twelve months.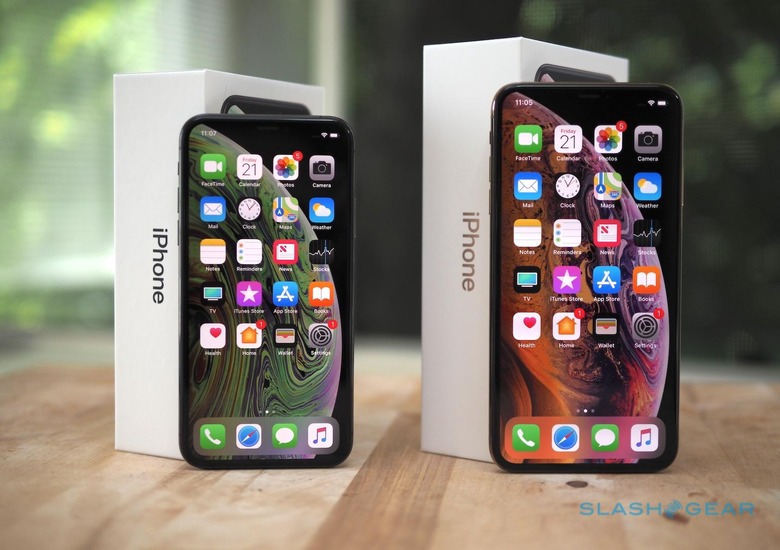 I suspect Apple is fine with the iPhone XS and iPhone XS Max existing in the rarified air at the top of the cellular food chain. If last year proved anything, it's that the age of the thousand-dollar smartphone wasn't the ridiculous idea that some decried. With the arrival of the iPhone XR, meanwhile, those hungry for the X-family style but still with reservations around the price will get a large chunk of the features for a not-inconsiderable saving. For Apple, meanwhile, it's a win-win.
I don't think, when we complained we wanted something more, something new, from the smartphone industry, that laptop-level pricing was what we had in mind. Part of what I find most fascinating about the iPhone XS, though, is its vision of the future. Apple and its fiendishly clever silicon are paving the way for AI in your pocket with groundbreaking talents. Sure, there's a tithe to pay to ride the cutting edge, but it's hard not to be excited at where that ride is taking us.