Apple iPhone event 2019: September 10 invites are out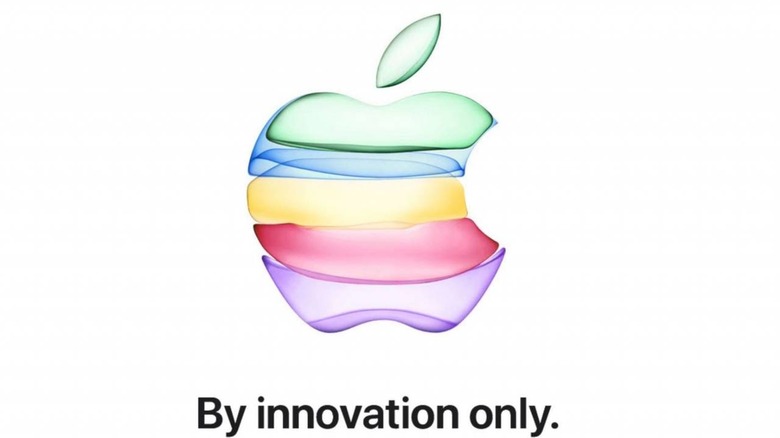 Apple has confirmed its next big event, with the new iPhone range expected to make its debut on September 10. Invitations to media for the event went out this morning, with the presentation taking place at Apple Park, in Cupertino, California.
The tagline for the event – complete with a stacked, translucent Apple logo in different colors – is "By innovation only," and there's certainly a lot riding on its contents. As usual, Apple is giving no indication which products are on the agenda, but the September event is invariably about new iPhones.
For 2019, the rumor-mill has pointed to three such smartphones. They'll follow the existing iPhone XS, iPhone XS Max, and iPhone XR. Preliminary specifications have been the subject of plenty of leaks and speculation so far, but we think we have a few good ideas of what's going to be there – and what isn't.
The iPhone XS and iPhone XS Max successors are likely to use a triple camera array on the back, for example. That's believes to be used for an ultra-wide-angle sensor in addition to the existing normal and telephoto cameras the current phones offer. On the front, meanwhile, upgrades to the Face ID camera system – which uses Apple's TrueDepth camera array – are also believed to be in the pipeline.
There could even be an "iPhone Pro" – a new flagship smartphone that has long been rumored as a possibility. That's expected to use the Apple Pencil, just like its bigger iPad Pro siblings.
Expected to be absent, however, is 5G. Apple was believed to be putting its hopes in Intel developing a 5G modem that it could use, only to see those expectations squashed when Intel opted to exit the smartphone modem business altogether. A deal with one-time-foe Qualcomm is expected to lead to future iPhones using Qualcomm 5G modems, but that's not likely to take place until 2020 at the earliest.
Still, with 5G networks in the US still in a relatively fledgling state, the delay to adopt the next-generation wireless technology probably won't impact iPhone buyers all that significantly.
The big question is what might be sharing the stage with the new iPhones. After the Apple Watch Series 4 debuted at 2018's event, it's possible there could be a new smartwatch to be shown. Alternatively, Apple could look to its MacBook range, with the chatter centering on a 16-inch MacBook Pro, though that may well be held back until another event even later in the year.