Apple iPad Mini successor leak shows Touch ID feature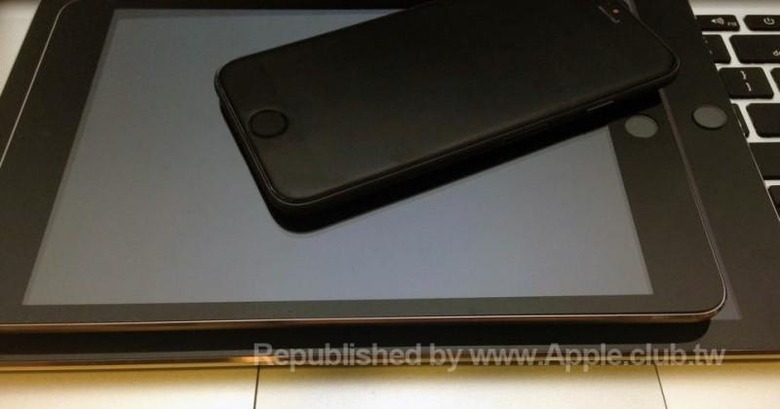 The iPhone 6 and the iPad Air 2 have had their fair share of leaks and rumors, like the almost unfathomable size of the 5.5-inch iPhone 6 or the Touch ID-toting iPad Air 2. Now it's the next gen iPad Mini's turn to get the spotlight and almost unsurprisingly, this leaked photo of the three upcoming devices shows that the mini tablet will also be sporting Touch ID sensor of its own.
Apple introduced the concept of the a fingerprint sensor with the iPhone 5s last year. Though many have tried to jump on that bandwagon, it wouldn't be a stretch to consider Apple's implementation the best and most reliable of the lot, despite having its own occasional issues. It is only natural that Cupertino would push this unique feature to its other devices and the next generation of tablets seem to be the logical recipients. With Apple also expanding the fignerprint-based security to other apps in iOS 8, there is even more reason to expect it to be the case.
This new bit of information about the next iPad Mini comes from Taiwanese reseller Apple Club. The photo shows not just the iPad Mini but also the iPhone 6 and iPad Air 2 as well. The devices, particularly the tablets, exhibit the distinctive Touch ID ring. Of course, these are just model units and not the exact finished devices, so best to take it all with a grain of salt.
Other than that feature, there isn't really much to see about the iPad Mini in this unsanctioned photo op. No indication of changes in design, relocation of buttons or what not, though the smaller tablet could very well follow the modifications seen in the iPad Air 2. Of course, there is also clue about the new split-screen functionality that is said to be arriving on Apple's iPad line.
Most of these things, however, seem to be no-brainer features for both the iPad Mini and the iPad Air 2. All that's left now is to actually wait for the devices to be announced. If Apple's events and announcements are anything like clockwork, we could expect the company to pull off the veils around October this year.
VIA: Mac Rumors