Apple iPad Bundled Up and Ready to Ship: the Guide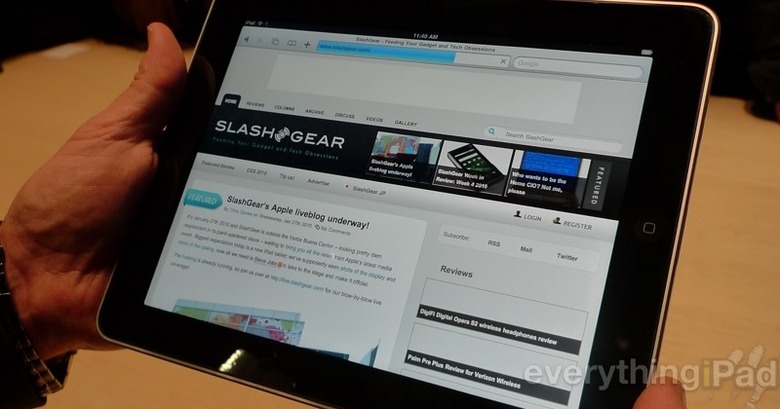 We are just days away from one of Apple's biggest launches to date. Many would argue that the iPad has even managed to surpass the original iPhone, and perhaps some analyzed numbers would help that theory along. Whatever the case, the fabled tablet from the Cupertino-based company is almost here. People all over the United States have begun to receive their notifications in one fashion or another. Whether you have the tracking number on refresh in your browser, or you've been told that you need to visit your local Apple Store to retrieve your reserved gadget, each story has the same ending: This Saturday marks the day you can stop wondering what Apple's tablet would be like, and finally get to play with it. But, what makes it tick? Why should you be interested in the tablet at all? Isn't it just a big iPod Touch? We won't dwell on the nay-sayers for this all-encompassing guide. Instead, we'll take a look at what we know, and skip the heresy. After all, with less than a handful of days remaining before the big day, there's no room for speculation.Hardware
We'll start from the outside, and work our way in. Considering that gorgeous screen, we don't think there's any better way to do it, truth be told.
The size and weight of the iPad is one of the reasons Steve Jobs considers the tablet revolutionary and magical. Certainly, tablets of the past (even the recent past) have been bulky, and relatively thick (there are a few exceptions, of course), but that is certainly not the case with the iPad.
Height: 9.56 inches
Width: 7.47 inches
Depth: 0.5 inches
Weight: 1.5 pounds for the WiFi only model; 1.6 pounds for the WiFi+3G model
As for that display, it looks something like this: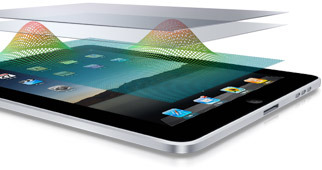 9.7-inch LED-backlit glossy widescreen display; multitouch enabled; and IPS technology
1024x768 resolution at 132 pixels per inch (ppi)
Oleophobic coating, to stave fingerprints and other muck
It can also support multiple languages, as well as several characters, simultaneously
Many people have asked what that IPS technology really means. Put plainly, it allows for the display to deliver a crisper image, while making it possible to view the images displayed therein at extreme angles. If you tilt the iPad to the left, right, up, or down, you'll still see a crisp image, as opposed to it fading away, or becoming dark. It's a great way to make sure that your movie watching isn't impeded by anything as simple as moving the iPad in a certain direction.
There aren't many external buttons on the iPad (much akin to the iPhone and iPod Touch), but they're there:
At the top-right, you'll see the on/off, sleep/wake button
Just below that, still along the right side, you'll see the screen rotation lock switch
And then still lower, you have the volume up/down toggle
At the very bottom of the iPad, just below the screen and at the center of the bezel, you'll find the pivotal Home button
As we dive into the iPad, we get into the main reasons why this tablet has become such a hot topic as of late. Considering the memory allowed, plus the processor that Apple created for the iPad, we've got a tablet that's destined to stay on your counter, your bookshelf, and your bookbag for many years. Or, you know, just until the next version comes out, and you realize you need the newest shiny thing on the block with that Apple logo.
Memory wise, there are three options for your iPad, and that includes both the WiFi only version, as well as the WiFi+3G models:
16GB WiFi — $499; WiFi+3G — $629
32GB WiFi — $599; WiFi+3G — $729
64GB WiFi — $699; WiFi+3G — $829
How is 3G going to be handled? That's part of the revolutionary part, we imagine. Apple decided to stick with familiar ground, and are offering two methods of accessing AT&T 3G connectivity: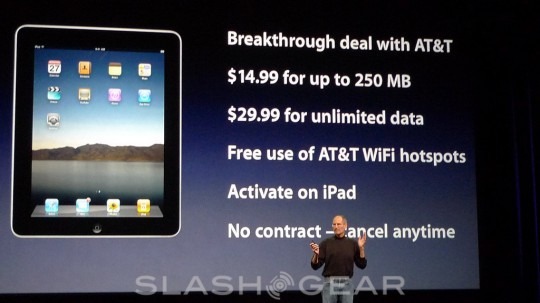 $14.99 — 250MB/month
$29.99 — unlimited data/month
Free use of AT&T WiFi hotspots
No contract
Activate/deactivate on the iPad
What does it all mean? Basically, you can change your data plan whenever you want, right from your iPad. If you know you're going to be travelling for awhile, then go ahead and pop on the unlimited data usage, but when you don't need it anymore, go ahead and take it off. There aren't any contracts to sign, and from what we have heard, you are able to do this as much as you want. You will just be billed for usage.
However, you won't be able to just throw in your own SIM card (if you're on AT&T) and go. The iPad is the first device to use what's called a Micro SIM card, and, as you can tell from the name, it's a smaller version of the current SIM cards being employed.
Steve Jobs remarked at the iPad keynote that the tablet would be able to handle up to 10 hours of WiFi Internet browsing, as well as doing other things. That still holds true, but something we will have to test personally when we get the opportunity:
Built-in 25-watt-hour rechargeable lithium-polymer battery
Up to 10 hours of surfing the Web on WiFi, watching videos, or listening to music
Charging is handled by plugging your iPad into an AC adapter, or USB into your computer
Steve Jobs also mentioned that the battery will give you over a month of stand-by time. That's noteworthy, because we're wondering how long the iPad will go on one charge, with minimal usage.
Now, for the sweet spot within the iPad. The processor that Apple decided to throw into the tablet is pretty impressive, and it's one of the main reasons so many people are interested in handling the gadget.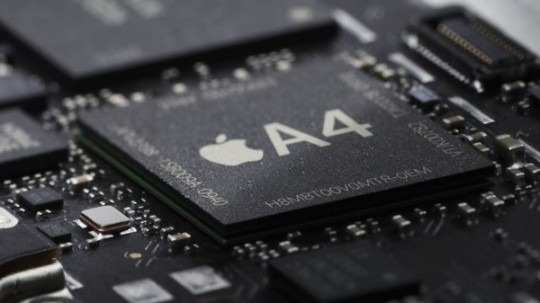 1GHz Apple A4 custom designed system-on-a-chip is specifically manufactured to offer up high performance, but with low-power outage. Meaning, you won't lose a finger because it gets burned off, and the system should remain blazingly fast as those 10 hours of usage tick off the clock.
As is customary for a touchscreen device that rotates, Apple included all the necessary sensors for you:
Accelerometer, so that the iPad changes from portrait to landscape on command, just by rotating the tablet
Ambient light sensor, so you don't go blind in the middle of the night
Input and output is handled in a standard fashion, with nothing all that surprising for an Apple product:
3.5mm stereo headphone jack
Built-in speaker
Microphone
30-pin dock connector port
Micro SIM card slot, which is available only on the WiFi+3G model, for obvious reasons
The wireless and cellular connections are pretty extensive, and we're pleased to see that Apple has managed to cover every base that we can think of, to make sure that wherever you go, you'll be able to use your iPad to the fullest extent. As long as you buy the model that's right for you, of course.
In the WiFi model only, you'll find:
WiFi (802.11 a/b/g/n)
Bluetooth 2.1+EDR technology
In the WiFi+3G model, you'll find:
WiFi (802.11 a/b/g/n)
Bluetooth 2.1+EDR technology
UMTS/HSDPA (850, 1900, 2100 MHz)
GSM/EDGE (850, 900, 1800, 1900 MHz)
The 3G model supports data transmissions only — that means you won't be making any calls from your iPad. At least not from AT&T's 3G network.
If you're planning on using your WiFi for location-based services, you'll either be troubled or happy by the fact that the WiFi only model won't help you out in the woods:
WiFi model does not include any kind of GPS, or assisted GPS
Both models do include a digital compass, though (so maybe it can help you in the woods, after all)
Assisted GPS is available only in the WiFi+3G model
Cellular connections can also help you locate yourself, but that is only available in the WiFi+3G model as well, for obvious reasons
[vms 96b8c65b75d2ef826733]
Software
Now, that takes care of the hardware, both on the outside and on the inside. As you can see, Apple has held nothing back when it comes to the manufacturing of their latest gadget, and we imagine that should make anyone who has purchased the tablet pretty happy. Of course, there are always unseen factors, but Apple seems to have some of those covered as well. If, for example, your battery crashes on you, and you can't seem to figure out why, you can simply send it back into Apple. Instead of giving you your old one, they're just going to send you a whole new one. Sure, you'll have to resync it with iTunes, and load up everything all over again, but hey, it's better than getting a refurbished model, right? Besides, you'll be able to open it all up again, like it's brand new. Because, it's brand new.
We'll dive away from the bulleted lists for now, and focus on the content that Apple is manufacturing with the release of the iPad. Mainly, we'll talk about the iPad itself, and how it feels in the hand. Truth be told, when we first saw the tablet, we were wondering how it would feel. Our worries were quickly dashed when we finally got our hands on it. Both in landscape and portrait mode, the iPad feels great. The 1.5 (and 1.6, we imagine) pounds packed into the tablet feels exactly like it should: you know it's there, but it's not heavy enough to be a burden. In essence, we won't say it's perfect, but for what the tablet is, we can imagine it being pretty close.
The bezel is big. Every bit of big as you've seen in the images here, and elsewhere. But, it's not a bad thing. While some have argued that it could have been smaller, we would argue this point. The simple fact that Apple made it like this to make sure you could handle the tablet without accidentally activating anything on the screen, makes the design make sense. Yes, you will be handling the iPad a lot. And, yes, you will be moving it from portrait to landscape mode a lot. So, that bezel makes it possible for you to do so comfortably, and without fear that you'll start making your way into an application without your knowledge. And yes, it is shiny, which doesn't hurt all that much, either.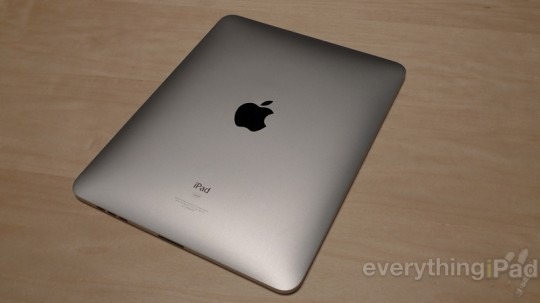 The back of the iPad is slightly curved. That means if you put it down on your table, and intend to use it for more than anything than making random taps on the screen, you're going to have some trouble. Unless you grab that bezel and hold it still, of course. We're not exactly sure that was the greatest design, but we will say that the curved back does make it feel very nice to hold in the hands. So, perhaps that was the main point. After all, we know that Apple would rather you hold the tablet, then put it down on a table. Though, if you put the tablet down on a smooth surface, you can spin it like a top. Maybe a developer out there will make some kind of game where that could be implemented usefully.
What's the software like? How does it differentiate between the iPhone and iPod Touch? Well, as you've surely heard, the iPad is running a slightly modified version of the iPhone/iPod Touch Operating System. It's being billed as iPhone OS 3.2, and the majority of the differences seem to be within applications, and not so much with the major differences in the forefront. Though, it is probably a fix for iPhone OS 3.2 that we can now select an image for our background, and we wouldn't be surprised to see that kind of update on future OS upgrades for the iPhone and iPod Touch.
The way you interact with the applications has changed quite a bit. There are now contextual menus that drop down from many of them, making it easier to reach embedded features, and to make the user experience far more streamlined and up-front. There's also applications that can take advantage of split-screen usage, much like the Mail application and how it uses both sides of the screen to show your inbox, and then selected messages. And finally, there are pop-up windows that display more information about a particular topic. This was showcased primarily in iTunes: you select an album, and a window will pop-up to show you the artist information, or the CD's track list. It makes it all seem fluid and easy, and doesn't slow down the user's trek through any particular application.
Just as we've seen from Apple's "how to" videos, we can see that almost every single iPhone/iPod Touch application has been completely revamped, and recoded for the iPad. Mail, mobile Safari, Calendar, iTunes, the App Store, Photos, Videos, and YouTube. There are other applications that have been included, but that will need to be downloaded from the App Store after you turn your iPad on. We're completely positive that the iBookstore (which will supply you with all your iBooks) will be free to download, but the others: Pages, Keynotes, and Numbers will all cost you $10 a piece.
The truth is, the difference is going to be the applications. Just as we've seen and explained, the usage of pop-up windows, contextual menus, and split-screen functionality all work together to bring a fluid, and expansive resource to the iPad, even if the particular features are part of separate applications.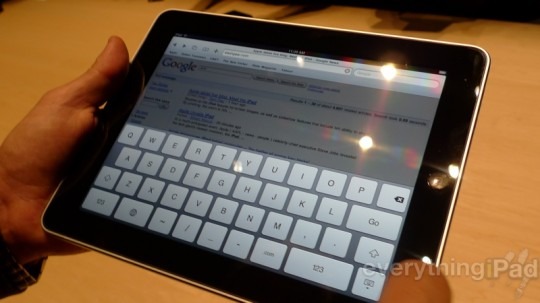 The software keyboard is a topic in of itself. The keyboard will appear in either portrait or landscape mode, and both sizes offer up their own benefits. The portrait mode is small and compact, but considering the size of the tablet itself, you probably will still not be able to hold it in both hands and type with your thumbs. We're not saying it's impossible, but it will probably be pretty uncomfortable for most of the users out there. As for the landscape keyboard, Apple has stressed plenty of times (especially in their "how-to" videos) that the full keyboard is almost the size of a netbooks. Now, that could mean a couple of different things. First, that it's not anywhere near full size, and that you'll probably not enjoy typing on it at all. Or, and what we imagine it to mean, is that the keyboard is pretty close to a full-sized one, with some changes made to fit the screen, but that overall you'll enjoy the experience. And, most importantly, want to actually use it.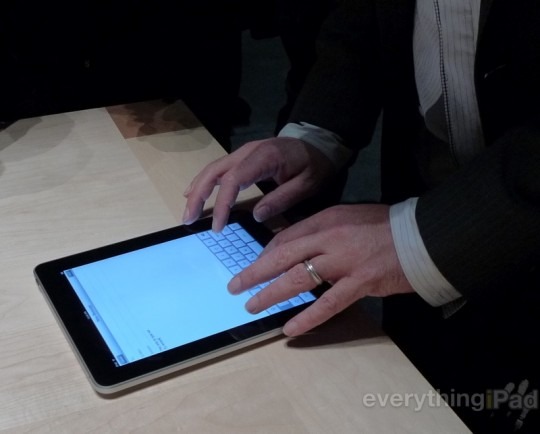 We are hoping that it's the latter case, because the truth of the matter is, the software keyboard for the iPhone is still held up as the best available on the market, so we don't want to think that the same keyboard, made only larger, is bad. But, when you are accustomed to a notebook, or netbook's keyboard, we can understand why going to a software format, plus smaller or changed in some fashion to what you're accustomed to, may make it hard to use. You will just have to learn how to use it, much like every other keyboard available on the market.
[vms f030b4f67eeaeba30110]
Publishing Partners and the iBookstore
The iBookstore is one of the topics that's been the most discussed since the announcement of the iPad. For good reason. Many people believed that the Apple tablet would change everything about the digital disbursement of books, and in some ways, they were right. It took a lot of work to finally achieve the spot they're at now, but it seems to the world that Apple's iBooks are going to be priced from: free to $14.99. That $14.99 is the ceiling, and it's been suggested that books won't be going over that, no matter their spot on the New York Time's Bestselling list, or their hard cover pricing. It should be noted that none of this has been made official by Apple quite yet, but with a few leaks of the iBookstore shop, we're pretty sure that the pricing discussed is what we will see in the final product.
Here is a list of the announced publishing partners (so far):
Penguin
HarperCollins
Simon & Schuster
Hachette Book Group
Macmillan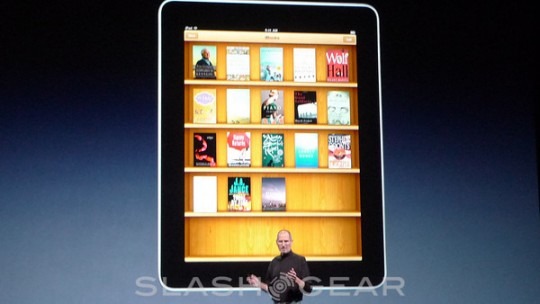 This list is going to grow over time, we're sure. Publishers will see that the eReader function on the iPad is just as good as the competitions, and much like developers have flocked to the App Store, publishers will work with Apple to bring their books to the iBookstore. There's no telling how long that will take, but we're sure it will happen.
As for magazines, newspapers, and the like, there's a small army being built to support the iPad:
The Wall Street Journal — $17.99/month for subscription
The New York Times
Wired
GQ
Vanity Fair
The New Yorker
Glamour
National Geographic
Again, these numbers are going to grow. As people realize the functionality of the iPad, and how interaction with what people are reading will bring in new customers to subscription-based platforms, more publishers will jump on board. Only time will tell when, but we can't imagine it lasting much longer after iPads ship out to customers this Saturday.
Applications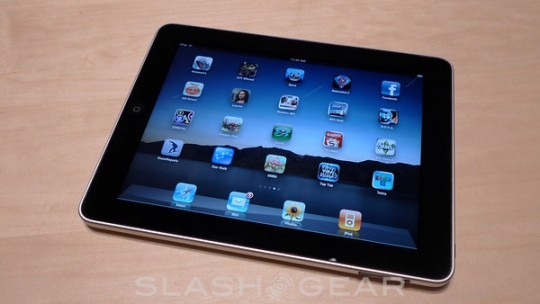 Apple made it official, that if you wanted to get your iPad application out the door on April 3rd, you needed to have them submitted by March 27th. That day has come and gone, and so far, it looks like Apple has approved somewhere in the ballpark of 130+ applications to greet iPad customers on Saturday. We aren't going to list all of them here, but at EverythingiPad, there will be some comprehensive coverage of the applications available for the Apple tablet.
What we will talk about, though, is the differences that you can expect from the applications you know and love on the iPhone or iPod Touch, and that are being brought over to the iPad. As you know, applications that are created for the smaller iPhone OS-running devices can still be run on the iPad; by either keeping them at their "normal" size, or by doubling their pixels, and nearing the full size of the tablet. Knowing that wouldn't be good enough for the majority of customers out there, Apple allowed the iPhone OS Software Developer Kit (SDK) to provide options for developing iPad-specific applications.
The iPad offers developers more options: a faster processor, bigger screen, and more memory to develop applications. With that, developers can create larger games, and applications with more options. That's both good and bad for consumers. It's good because that means we'll have new games, even if they are reboots of old classics, and it means that we'll have more playable options. But, it's also bad because the games and applications are going to get a price increase. Titles that were originally $2.99 have been upped to $4.99, and there are bigger exceptions that are found in the iPad App Store as well. Affording the iPad may be one thing, but affording the applications available for it may be another thing entirely.
Accessories
You didn't think there wouldn't be accessories, right? After all, this is an Apple product. You've got quite a few options here, so we'll break it down for you: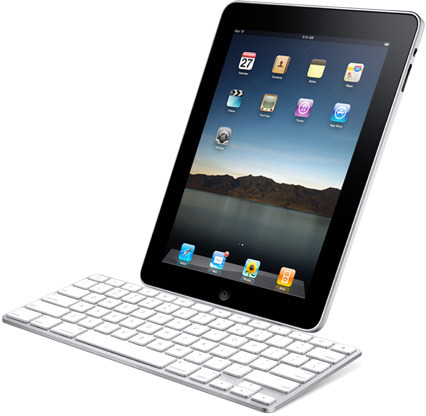 The iPad Keyboard Dock is exactly what it sounds like: it's a dock that you can put your iPad, but there's an Apple keyboard attached to it as well. Which means, if you've got a lot of typing to do, you can go ahead and plug your iPad into the dock, and start typing. It's only for portrait mode though, so don't think you can switch it up any time soon. You can pre-order the iPad Keyboard Dock right now, and it will only cost you $69.00. However, it won't ship until late April, so a few weeks after you get your fun new toy.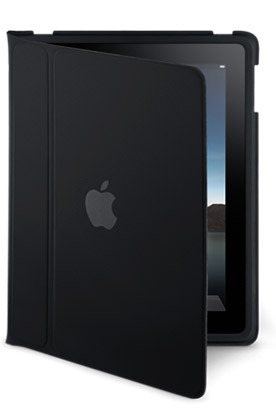 The iPad Case has a fine microfiber interior, making sure that you won't scratch the screen when you close it up. It also has reinforced panels, which should add a little bit of protection to the iPad. And while it works great as a normal case, it also folds backwards to act as a stand, as well, so you can place the iPad on the table (in landscape mode) and use it to your heart's content. (Guess that takes care of that rounded back.) The case can be pre-ordered now, for $39.00, and ships in mid-April.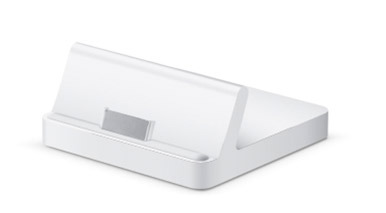 There's the standard iPad Dock, which allows you to charge your iPad easily. It places your iPad in portrait mode, and you can use it as a standard photo frame, if you wan to display your photos for everyone while it's charging. The Dock will ship by April 3rd, and it will cost you $29.00, so go ahead and pre-order it now.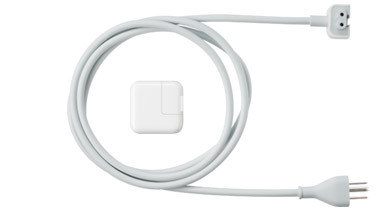 The iPad 10W USB Powe Adapter allows you to charge your tablet from an AC power adapter. Nothing other than that. You can pre-order it now, but it won't ship until May. It will also cost you $29.00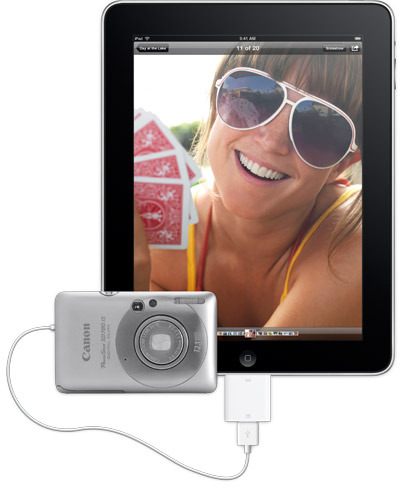 iPad Camera Connection Kit is a simple piece that connects into the 30-pin connector at the bottom of the iPad, and allows you to have access to a USB port. It also comes with a second peripheral, which allows you to import pictures directly from an SD card. Unfortunately, Apple still doesn't have this listed as able to pre-order, nor do we know how much it will cost.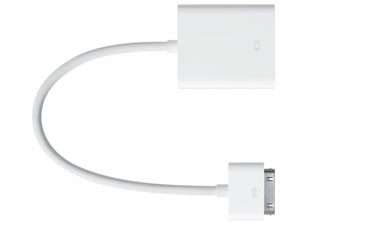 You can pre-order the iPad Dock Connector to VGA Adapter, which allows you to plug in your iPad to a TV, monitor, projector, or LCD display that utilizes VGA connectors. You can pre-order the dock connector for $29.00 right now, and it will ship by April 3rd.
And Just Days Before...
There's only three days separating you from your very own iPad, and we hope that this guide has been beneficial to you in one way or another. As you play around with yours, if you want to join in the conversation about your brand new Apple tablet, we would like to point you in the direction of Everything iPad, your one-stop shop for all iPad related news, conversations, and everything else in between. And of course, as news breaks, we'll be sure to bring it front and center here at SlashGear.